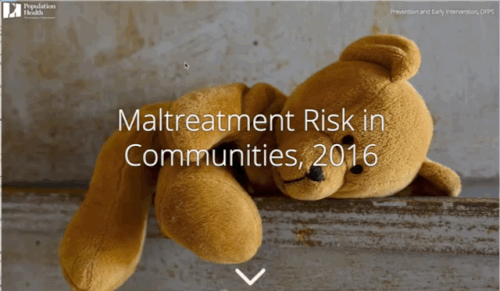 Preventing the underlying risks for child maltreatment in Texas will take coordinated efforts between many community and state-level groups. Achieving this coordination will first require an agreed upon understanding of the risks that communities hold. 
There is no single factor that signals that a community holds a high risk for child maltreatment. Further, different risk factors are important for different communities. In order for communities to understand their child maltreatment risk, they must also understand their risk profile and what in their community is contributing to that risk.
Drawing on data from five different sources, we have developed a series of maps that are intended to provide communities in Texas with information about their maltreatment risk and to provide insight as to which factors are associated with that risk.
These maps are an overview of community-level risk for maltreatment. Most users will be able to understand their community's overall risk and risk profile from these maps. For those that would like more detailed maps with risk scores, they can be found here.
The maps are organized by maltreatment risk for each specific age group. It is clear that maltreatment risk and the risk profile for a single community may not be the same for all age groups. Therefore, age groups are shown separately. 
An important point must be made. Communities with average risk are not communities with NO risk. The communities with below average risk are the communities that hold the least amount of risk for child maltreatment. Through all maps, the darkest colors identify the highest risk communities. 
More detailed maps, with robust tools for visualizing and parsing data, are available as well.