Main page content
The UT System Information Security Office (ISO) will be updating the phish alert button in Outlook during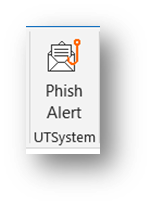 the evening of Wednesday, May 5. As part of this process, ISO staff will remove the existing phish alert button and replace it with an updated button.
The button will not look new to some System Administration employees, but others have a different version or are missing the button will now have the same ability to report suspected phishing email. Please contact the Help Desk if the phish alert button is missing or does not work after the update.
How Does the Phish Alert Button Work?
Click the phish alert button if you believe you have received a phishing email or any potentially dangerous email. Any emails you report using the button will be automatically deleted from your inbox. The reported emails will be forwarded to ISO staff for analysis.
The button should only be used to report emails you believe to have malicious intent, not spam or marketing emails. You can simply delete those types of emails or add the sender or sender's email domain to a block list.
Phish Alert Button for the Outlook Mobile App or Web Client
Over the next few weeks, ISO and OTIS will be working to make the phish alert button available on the Outlook mobile app as well as Outlook online.
If you would like more information about phishing awareness, visit the ISO SharePoint site. Contact the Help Desk for more information about the phish alert button.