Main page content
Profile Photo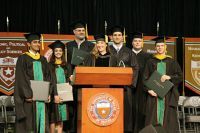 Appointed by
Governor Perry
BRENDA PEJOVICH, Dallas, Texas, was appointed to The University of Texas System Board of Regents by Governor Rick Perry in July 2010 and was reappointed in February 2011.
Regent Pejovich is Chairman of the Facilities Planning and Construction Committee and serves as a member of the Academic Affairs Committee; the Audit, Compliance, and Management Review Committee; and the Technology Transfer and Research Committee. She is a Regental representative on the Board for Lease of University Lands. She previously served as Chairman of the Audit, Compliance, and Management Review Committee and served on the Presidential Search Committees of U. T. Austin and U. T. Health Science Center - Houston. Regent Pejovich was Chairman of the Task Force on University Excellence and Productivity, and also Chairman of the Advisory Task Force on Best Practices Regarding University-Affiliated Foundation Relationships. She was previously appointed as Regental representative to the Type 2 Diabetes Risk Assessment Program Advisory Committee.
Ms. Pejovich is founder of BFG Mgmt. Co. and Brenda Pejovich Group LLC. Previously, she was CEO of Brenda Pejovich & Associates Inc., a large-scale operations consulting firm ranked by the Dallas Business Journal as one of the top 25 largest firms in its sector. Earlier in her career, she practiced public accounting with a Big Eight Firm.
Ms. Pejovich's public service record includes gubernatorial appointments to the Texas Higher Education Coordinating Board, the Texas Building and Procurement Commission, and Texas Mutual Insurance Company. Additionally, she has chaired numerous fundraising events for nonprofit organizations and has received recognition and awards for her entrepreneurial accomplishments and community involvement. She currently serves on boards including the Texas Public Policy Foundation. Ms. Pejovich is co-founder of the Professor Svetozar Pejovich Future Leaders Award for undergraduate economics students and a prime sponsor of the World War II Memorial located on the Capitol grounds in Austin, Texas.
Ms. Pejovich holds a Bachelor's degree in Business Administration from The University of Texas at Austin and received certification by the Texas State Board of Public Accountancy. 
last updated August 28, 2015