Main page content
Profile Photo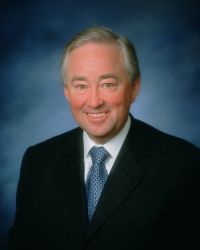 Appointed by
Governor Perry
JAMES R. HUFFINES, Austin , Texas, was first appointed to a six-year term on The University of Texas System Board of Regents by Governor Rick Perry in February 2003. Governor Perry reappointed Mr. Huffines for a second consecutive term to expire on February 1, 2015.
The Board first elected him Chairman on June 2, 2004, and he served in that capacity until November 9, 2007, when he was elected as a Vice Chairman of the Board. As Vice Chairman, Mr. Huffines served as the Chairman of the Facilities Planning and Construction Committee and as a member of the Health Affairs Committee as well as the Student, Faculty, and Staff Campus Life Committee. On April 13, 2009, the Board elected him Chairman for a second term. He served as Chairman until March 3, 2010.
Regent Huffines serves on the Academic Affairs Committee, the Finance and Planning Committee, and the Student, Faculty, and Staff Campus Life Committee. He has also served on the Board of Directors of The University of Texas Investment Management Company (UTIMCO). He was also a member of the Task Force on UTMB Clinical Operations.

Mr. Huffines, a commercial banker, is Chairman, Central and South Texas, of PlainsCapital Bank in Austin. He also serves as Senior Executive Vice President of PlainsCapital Corporation, a position he has held since March 2001.

From November 1986 to June 1990, Mr. Huffines was Secretary of Appointments for Governor William P. Clements, Jr. Before joining the administration of Governor Clements, Mr. Huffines held executive positions at Dallas banks, including Dallas Bancshares, Inc.; Bank of Dallas; and Republic National Bank of Dallas.

Mr. Huffines was Co-Chairman of the Texas Inauguration Committee for the inauguration of Governor Perry in January 2003 and January 2007 and served as Chairman of the transition team for Governor Perry in 2000-2001. He also is a former Commissioner of the State of Texas Alcoholic Beverage Commission.

He currently participates in numerous community and business organizations, including serving as a member of the advisory board of Texas Lyceum; the Board of Trustees of the Bob Bullock Texas State History Museum Foundation; and the Executive Committee of the Chancellor's Council at the U. T. System.

Mr. Huffines also serves on the boards of privately held Energy Future Holdings (formerly TXU Corp), Hester Capital Management, PlainsCapital Bank, and PlainsCapital Corporation. He is a board member and partner in Andrew Harper Travel Publications, Inc., and will be a board member of Capstar Acquisition Corp., an entity in the SEC registration process.

His previous associations include service on boards or committees of Austin Caritas, Austin Rape Crisis Center, Austin Settlement Club for Girls, Child Care Partnership of Dallas, the March of Dimes, the Harry Ransom Humanities Research Center at U. T. Austin, Performing Arts Center at U. T. Austin, School of Education at U. T. Austin, Meadows School of the Arts at Southern Methodist University, Dallas Council on World Affairs, Dallas United Nations, the Austin and Dallas Symphony Orchestras, Dallas Theatre Center, U.S.A. Film Festival, and Dallas Children's Arts and Ideas Foundation. He also served as Chairman on the Dallas Mayor's Committee on the Employment of the Disabled.

Chairman Huffines earned a BBA degree in finance from U. T. Austin in 1973 and attended Southwestern Graduate School of Banking at Southern Methodist University. He is married to the former Patty Hayes Shepherd, a 1977 graduate of U. T. Austin.