Main page content
Profile Photo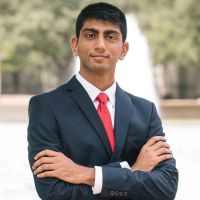 Neelesh C. "Neel" Mutyala, M.D.
Appointed by
Governor Abbott
NEELESH C. "NEEL" MUTYALA, Sugar Land, Texas, was appointed as Student Regent for The University of Texas System Board of Regents by Governor Greg Abbott for a one-year term that began on June 1, 2022.  
Neel Mutyala is a fourth-year medical student at the U. T. Health Science Center - Houston. He is part of the dual M.D./M.B.E. program and received his Masters of Bioengineering in Global Medical Innovation from Rice University.  
Mr. Mutyala is deeply passionate about public health and volunteering. In addition to his medical training, Mr. Mutyala has served as Co-Director for UTHealth Cares, a student-driven collaborative initiative designed to address the health concerns of Houston's underserved population through community engagement and interprofessional collaboration between UTHealth schools, and as President of his school's Texas Medical Association chapter. Mutyala also enjoys regularly volunteering at the HOMES clinic and being a mentor for other upcoming medical students. 
Mr. Mutyala is heavily committed to academic and scholarly activity, having previously completed research at M. D. Anderson, Rice University, Mayo Clinic, and the Texas Heart Institute. During his time in medical school, Mr. Mutyala has also worked with faculty at Baylor College of Medicine and Texas Children's Hospital to develop novel ventriculoperitoneal shunt technology for treatment of pediatric hydrocephalus.  
As a first-generation college student, Mr. Mutyala previously completed an undergraduate degree in Biomedical Sciences from the University of Houston. During this time, he was appointed to and served a one-year term as the Student Regent for The University of Houston System Board of Regents.  
last updated July 21, 2022