Nation's capital serves as classroom for UT Archer fellows
WASHINGTON, D.C. — Bill Archer, the former Texas congressman and chairman of the House Ways and Means Committee, wanted to do two things when he retired from Congress in 2001: educate the leaders of tomorrow, and use the nation's capital as a living classroom to transform the way young people view the world.
Fifteen years later, The University of Texas System's Archer Center, which he founded, is educating students from across the System's 14 academic and health institutions and developing them for leadership positions in government, politics, industry, health care, media and nongovernmental organizations.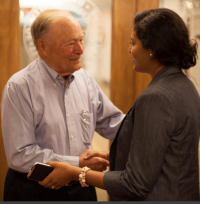 Archer believes that the best way to prepare future leaders is through internships, networking and real-world experiences such as attending policy briefings and Congressional hearings. He remains committed to providing students with a robust and dynamic learning environment that sets the Archer Center apart from what other universities offer.
"I wanted to start a program to help train the minds of young people to become not just leaders of Texas, but also the nation and the world," said Archer, a UT Austin alumnus who spent 40 years in public service.
The Archer Center's mission advances The American Leadership Program — one of eight bold strategic initiatives described as Quantum Leaps, launched last year by UT System Chancellor William H. McRaven.
The American Leadership Program aims to prepare the future leaders of Texas and to make the System known nationwide for developing great leaders through several initiatives, including undergraduate and graduate coursework and through a brick-and-mortar leadership institute.
Living classroom
Housed in the UT System's Office of Federal Relations, The Archer Center offers UT System students a wide range of coursework — including advocacy and policy classes — during their semester in D.C. They are enrolled in the Archer Fellowship Program or the Graduate Program in Public Policy.
The Archer Center puts a creative spin on one of their classes – history – to challenge students to think and learn differently. It uses D.C.'s monuments, museums, cemeteries and other historical locations as classrooms to teach the subject matter and inspire rigorous debate on historical events.
Students climb the rocks to read Franklin Delano Roosevelt's speeches at the FDR Memorial. At the Lincoln Memorial, they stand on those famous steps and learn why the Gettysburg Address and Martin Luther King's "I Have a Dream" speeches are so important to our national memory.
At the Smithsonian National Air and Space Museum, Archer students debate the dropping of the atomic bomb on Hiroshima in front of the Enola Gay, the B-29 bomber that carried out the mission. By the Potomac River, students discuss the historical significance of the river and environmental issues.
"Each argument and debate in which students engage is about the lessons of the past and how they will shape our future," said Joel Swerdlow, Ph.D., an Archer Center professor who has taught the living history class for a decade. "By examining history with different lenses and perspectives, I'm trying to teach the students critical thinking skills and get them to see things no one else sees."
Making an impact
Archer Center alumna Daniella Diaz, who is now a digital producer for CNN Politics, said Swerdlow's life lessons have improved her career growth and development. "He helped me find qualities I needed to master to succeed in life," said Diaz, who is one of The Huffington Post's 40 Under 40: Latinos in American Politics.
Diaz, who is from the Rio Grande Valley, said the living classroom experience influenced her decision to work in Washington after she graduated from The University of Texas Pan American (now UT Rio Grande Valley) two years ago.
John Dalton, a former Secretary of the Navy and current president of the Housing Policy Council of the Financial Services Roundtable in Washington, said he is well aware of the caliber of students that come from The Archer Center.
 "The Financial Services Roundtable has benefited from having some of these bright Archer Center students in our internship program," Dalton said. "I have seen first-hand the quality of the program and the quality of students the program produces."
Successful alumni
Archer Center alumni have succeeded in job markets throughout the nation and world. They include Florida Gov. Rick Scott's chief of staff; a vice president of NBC News Communications; a U.S. Dept. of Justice attorney that formerly prosecuted war crimes and genocide; a Facebook advocacy manager; an El Paso City Councilwoman; a chief of staff for Global Public Policy at General Motors; a deputy chief of staff of the Presidential Personnel Office at the White House; and many other successful alumni.
About The University of Texas System
Educating students, providing care for patients, conducting groundbreaking basic, applied and clinical research, and serving the needs of Texans and the nation for more than 130 years, The University of Texas System is one of the largest public university systems in the United States. With 14 institutions and an enrollment of more than 217,000, the UT System confers more than one-third of the state's undergraduate degrees, educates almost two-thirds of the state's health care professionals annually and accounts for almost 70 percent of all research funds awarded to public institutions in Texas. The UT System has an annual operating budget of $16.9 billion (FY 2016) including $3 billion in sponsored programs funded by federal, state, local and private sources. With about 20,000 faculty – including Nobel laureates – and more than 70,000 health care professionals, researchers, student advisors and support staff, the UT System is one of the largest employers in the state.