Regents award $1.5 million share to outstanding UT System educators
AUSTIN – Fifty-nine University of Texas System faculty members, lauded by students and peers as exceptionally innovative and inspiring teachers, will be recognized this month with a $25,000 cash award each from the Board of Regents.
Since 2008, the Regents' Outstanding Teaching Awards (ROTA) has recognized faculty members who deliver the highest quality of instruction in the classroom, laboratory, field and online. This year's honorees from across UT System's 14 academic and health institutions will be honored at an awards ceremony Wednesday, Aug. 24 in Austin, where the Regents will award a total of nearly $1.5 million to ROTA winners.
In the past eight years, the Regents' Outstanding Teaching Awards has granted nearly $17 million to UT System faculty and is considered one of the largest financial teaching awards programs in the country.
"UT educators provide invaluable mentorship and deliver high-quality instruction and innovation while enhancing the minds of the nation's next leaders. Their deep commitment to outstanding education ensures student success across the System," Chairman Paul L. Foster said. "The Board of Regents is honored to recognize our dedicated faculty members through the ROTA program."
A complete list of winners can be found on the Regents' Outstanding Teaching Awards website.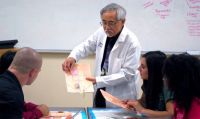 Alan Sakaguchi, Ph.D., associate professor in the Department of Cellular and Structural Biology at The University of Texas Health Science Center at San Antonio, said he is grateful to the Regents for their vision in establishing this award because it leads to more innovative teaching methods and ultimately benefits students, including his.
Sakaguchi, who has been fostering student success at the health science center for 32 years, is a true pioneer in problem-based learning approaches. He uses unique and effective teaching methods such as hand puppets, origami, paper models and 3D printing to help teach anatomy.
"I have a sincere desire to inspire students and ignite their love for learning," Sakaguchi said. "What matters most is helping students harness their innate abilities to maximize their education and training. Helping each one succeed is both a goal and a privilege."
Sakaguchi is a highly dedicated and innovative educator, always seeking to improve the learning experiences of his students, said Christi Walter, Ph.D., one of several faculty members who nominated the professor.
"This prestigious award embodies well-deserved recognition of Dr. Sakaguchi's exceptional achievements in education," said Walter, who is a professor and chair of the department.
The Regents' Outstanding Teaching Awards recognizes tenured, tenure-track as well as other instructional faculty for their outstanding teaching, mentoring and personal commitment to students and the learning process.
Recipients are vetted by their peer colleagues, students and UT presidents before advancing to competition at the System level.
In their evaluations of a candidate's teaching performance, members of the review panel consider a range of activities and criteria, including classroom expertise, curricula quality, innovative course development and student learning outcomes.
Kim Knight, Ph.D., assistant professor of emerging media and communication at The University of Texas at Dallas, establishes her classroom as a place for debate, dissection, introspection and revelation, said former student Brianni Nelson.
"She creates an environment that not only allows students to feel safe in expressing ideas, but challenges them to really develop their voice," said Nelson, who is currently a Ph.D. candidate and instructor at UT Dallas' School of Arts, Technology, and Emerging Communication.
Working with students in both the university classroom and in partnership with community organizations is a constant source of inspiration for Knight.
"The passion these students have for creating a more just and equitable world knows no bounds and it is a privilege to join them in this endeavor," Knight said. "I am honored that the Regents' Outstanding Teaching Award recognizes my teaching practice, but I especially value that it affirms the models of public engagement and inclusive teaching that are integral to my pedagogy."
About The University of Texas System
Educating students, providing care for patients, conducting groundbreaking basic, applied and clinical research, and serving the needs of Texans and the nation for more than 130 years, The University of Texas System is one of the largest public university systems in the United States. With 14 institutions and an enrollment of more than 221,000, the UT System confers more than one-third of the state's undergraduate degrees, educates almost two-thirds of the state's health care professionals annually and accounts for almost 70 percent of all research funds awarded to public institutions in Texas. The UT System has an annual operating budget of $16.9 billion (FY 2016) including $3 billion in sponsored programs funded by federal, state, local and private sources. With more than 20,000 faculty – including Nobel laureates – and nearly 80,000 health care professionals, researchers, student advisors and support staff, the UT System is one of the largest employers in the state.