UT System Regents' awards for innovative, outstanding teaching approach $18 million
AUSTIN— As a freshman at what is now UT Rio Grande Valley, Estrella Medina saw a poster on campus of electrical engineering professor Mounir Ben Ghalia, Ph.D., and his robotics team. It inspired the first-generation college student to sign up for a course with Dr. Ben Ghalia, and from the start, his engaging and interactive teaching had her hooked on engineering.
Today, Medina is a robotics flight controller at NASA Johnson Space Center in Houston, and she says she owes the fulfillment of her dream in great part to the encouragement and mentorship of Ben Ghalia. 
It's exceptionally dedicated faculty members like Ben Ghalia that led the UT System Board of Regents to establish the Regents' Outstanding Teaching Awards in 2008. Recipients of the award each receive a cash award of $25,000, and over the past nine years, the Regents have granted nearly $18 million to more than 700 UT faculty who have delivered the highest quality of instruction in the classroom, laboratory, field and online.
"The Regents' Outstanding Teaching Awards is one of the nation's largest awards programs to honor exceptional instruction in the university classroom," Regents Chairman Paul L. Foster said. "It is a reflection of the value the University of Texas System and the Board of Regents place on extraordinary teaching and student success, and it serves as a symbol of our sincere appreciation to these wonderful educators and the life-changing impact they have on students at UT institutions."
This year, Ben Ghalia is one of 56 faculty members from across UT's 14 academic and health institutions who will be honored by the Regents Aug. 23 in Austin. Altogether, the awardees will receive $1.4 million.
"I believe that passion for teaching is a requirement for creating an effective learning environment where students can learn and succeed," Ben Ghalia said.
Ben Ghalia focuses not only on successful learning outcomes, but also on helping students feel confident, accomplished and eager to participate in classroom discussions.
Medina, his former student, said Ben Ghalia's engaging teaching and dedication set her up for success.
"I keep hearing about former students still being impacted to this day by Dr. Ben Ghalia's teaching," Medina said. "When you feel encouraged and when you feel challenged as a student – it makes all the difference."
Dihua Yu, M.D., Ph.D., a cancer researcher and distinguished professor at UT MD Anderson Cancer Center, also credits her achievements to the dedicated training of a 2017 Regents' Outstanding Teaching Award recipient. Mien-Chie Hung, Ph.D., the professor and chair of the department of molecular and cellular oncology at UT MD Anderson Cancer Center, also teaches at the MD Anderson Cancer Center UTHealth Graduate School of Biomedical Sciences and has served as major advisor to more students than any other faculty member in the history of the school.
"Dr. Hung's love for teaching sets him apart from others," said Yu, who was recognized herself with a Regents' Outstanding Teaching Award in 2012. "He passes on patience, love and knowledge of science to the younger generation of students."
Recipients of the Regents' Outstanding Teaching Award are eligible for induction into the Academy of Distinguished Teachers, a System-wide advocacy group of academic professors dedicated to enhancing teaching, fostering innovation in the classroom and promoting interdisciplinary perspectives on education. The Academy, established in 2012, currently has 28 members.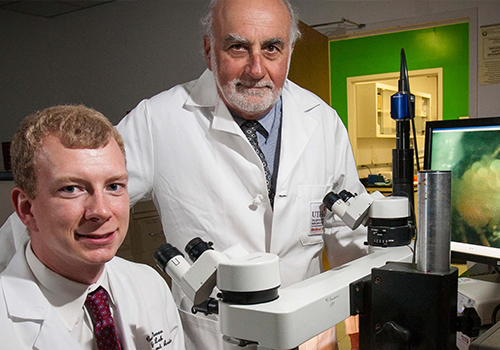 John Byrne, Ph.D., professor and chair of the department of neurobiology and anatomy at UTHealth McGovern Medical School, has been teaching at UTHealth for 35 years and said he is deeply honored to be recognized by UT System with a Regents' Outstanding Teaching Award.
"The award inspires me to continue developing innovative educational tools for medical and graduate students in the state of Texas and beyond," Byrne said.
Visit the Regents' Outstanding Teaching Awards website for a full list of 2017 recipients.
About The University of Texas System
Educating students, providing care for patients, conducting groundbreaking basic, applied and clinical research, and serving the needs of Texans and the nation for more than 130 years, The University of Texas System is one of the largest public university systems in the United States. With 14 institutions and an enrollment of more than 228,000 students, the UT System confers more than one-third of the state's undergraduate degrees, educates approximately two-thirds of the state's health care professionals annually and accounts for almost 70 percent of all research funds awarded to public institutions in Texas. The UT System's operating budget for FY 2017 is $17.9 billion, including $3 billion in sponsored programs funded by federal, state, local and private sources. With more than 20,000 faculty – including Nobel laureates and many members of the National Academies – and nearly 80,000 health care professionals, researchers, student advisors and support staff, the UT System is one of the largest employers in the state.