Main page content
Regents select Secretary of U.S. Air Force, accomplished university president, former member of Congress, as sole finalist for UT El Paso presidency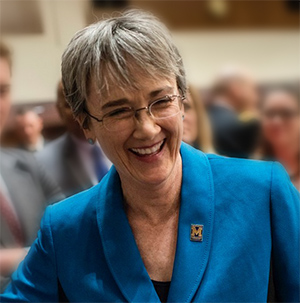 The University of Texas System Board of Regents named Secretary of the U.S. Air Force Heather Wilson – a former university president and U.S. congresswoman from New Mexico – as the sole finalist for the president of UT El Paso.
Regents voted unanimously Friday to select Wilson, whose accomplished career in public service and higher education has spanned more than 35 years and includes top leadership roles in higher education, the military, government and private industry.
Wilson was the first woman selected to serve as president of the South Dakota School of Mines and Technology, an engineering and science research university. During her tenure there, from 2013 until 2017, the institution doubled its research awards and experienced enrollment growth, the creation of new masters and doctoral degree programs and significant investments in capital projects. Wilson also strengthened a scholar program to increase the number of American Indian graduates, and she successfully orchestrated the institution's athletics transition from NAIA to NCAA Division II.
In 1998, Wilson became the first female military veteran elected to a full term in Congress, representing New Mexico's First District until 2009.  Previous appointments to the National Security Council and as cabinet secretary of the New Mexico Children, Youth and Families Department put Wilson at the helm of leading teams, building consensus and making qualitative organizational advancements.  A successful reformer of the foster care and adoption system, Wilson led efforts to reduce the number of children waiting for adoption. 
As Secretary of the Air Force, Wilson oversees 685,000 active-duty, Guard, Reserve and civilian forces, and an annual budget of more than $138 billion.
The Regents' decision followed an executive session last week where they interviewed candidates and considered recommendations from a presidential search advisory committee that reviewed applications and met with candidates for the position.
 "Dr. Wilson's broad experience in the highest levels of university leadership, and state and national government– whether securing federal grant awards, advising our nation's most important national research laboratories, raising philanthropic dollars or running large, dynamic organizations – will help ensure that UTEP continues its remarkable trajectory as a nationally recognized public research institution," Regents' chairman Kevin Eltife said. "Most importantly, she is deeply committed to student success and has dedicated her life to enhancing upward mobility opportunities for individuals."
As a young child, Wilson's interest in aviation was inspired by her grandfather, who flew planes for the British and American forces during World Wars I and II. She graduated summa cum laude from the U.S. Air Force Academy in the third class to admit women, where she was the first woman to command basic cadet training. Wilson then received one of the world's most celebrated international fellowship awards—a Rhodes Scholarship. She received her master's and doctorate degrees in international relations at Oxford University.  
After serving as an Air Force officer for seven years, she was appointed to the National Security Council staff as director for defense policy and arms control for President George H.W. Bush during the fall of the Berlin Wall and the collapse of the Warsaw Pact. During Wilson's decade in Congress, she served on the House Armed Services Committee, the House Permanent Select Committee on Intelligence and the House Energy and Commerce Committee.
Wilson also has worked in the private sector, serving as a senior advisor to several national nuclear laboratories and as president of Keystone International, a company she founded that conducted business development and program planning work for defense and scientific industry.
"Secretary Wilson has had a remarkable career of firsts in education and national service, and it's easy to understand why the search advisory committee and the board have been so impressed.  She has the experience, talent and leadership to build on UTEP's exceptional momentum," said UT System Chancellor James B. Milliken. 
If appointed by Regents after the state-required 21-day waiting period, Wilson would succeed Diana Natalicio, Ph.D., who announced in May that she would retire after serving as UTEP's president for 30 years. Over the course of her tenure, Natalicio led a significant qualitative transformation of UTEP, dramatically increasing research funding, degree offerings and student success. In January, UT El Paso attained the coveted top tier designation from the Carnegie Classification of institutions of higher education that only 130 other universities in the United States have earned.
Eltife thanked the members of the search advisory committee for their time and commitment to recommending to the Board of Regents select the best possible candidates to lead UT El Paso.
The search committee included the following representation:
Chair of Committee (Steven Leslie, Ph.D., UT System executive vice chancellor for academic affairs)
Board of Regents (Vice Chairman Paul Foster, Regent Ernie Aliseda and Regent Rad Weaver)
Presidents of other UT institutions (Taylor Eighmy, Ph.D., president of UT San Antonio, and Sandra Woodley, Ph.D., president of UT Permian Basin)
UT El Paso dean, faculty, and staff (Charles Ambler, Ph.D., dean of the Graduate School; Edward Castañeda, Ph.D., professor of psychology; Mark Cox, MSPH, Ph.D., associate professor of biological sciences; Elena Izquierdo, Ph.D., associate professor of teacher education; and Nadia Munoz, director of military services)
UT El Paso student and alumnus (Cristian Botello, UTEP student and president of the student government association, and Bonny Schulenburg, social media relations specialist at Ysleta ISD and president of the UTEP alumni association)
External and community members (Woody Hunt, chairman of Hunt Building Co.; Sally Hurt-Deitch, market CEO of The Hospitals of Providence; Renard Johnson, president of METI, Inc.; Mike Loya, CEO and president of Vitol, Inc.; Dee Margo, mayor of the City of El Paso; and Ed Escudero, vice chairman of WestStar Bank and president and CEO of High Desert Capital)
About The University of Texas System
For more than 130 years, The University of Texas System has been committed to improving the lives of Texans and people all over the world through education, research and health care. With 14 institutions, an enrollment of more than 235,000 students and an operating budget of $19.5 billion (FY 2019), the UT System is one of the largest public university systems in the United States. UT institutions produce nearly 59,000 graduates annually and award more than one-third of the state's undergraduate degrees and almost two-thirds of its health professional degrees. Collectively, UT-owned and affiliated hospitals and clinics accounted for more than 7.8 million outpatient visits and 1.6 million hospital days last year. Across UT institutions, research and development expenditures total $2.7 billion – the second highest among U.S. public higher education systems – and the UT System is regularly ranked among the top 10 most innovative universities in the world. The UT System also is one of the largest employers in Texas, with more than 21,000 faculty – including Nobel laureates and members of the National Academies – and nearly 85,000 health care professionals, researchers, student advisors and support staff.