Main page content
Blog Category
Healthier Recipes
Gluten-free doesn't have to mean low carb. These two recipes offer a reminder that healthy carbs are still an option with many gluten-free grains and starches available. For additional gluten-free options that are rich in healthier carbs, check out the complete collection of recipes from Cooking Light.
Cheesy Polenta Skillet
Thanks to its firm consistency, precooked polenta (usually sold in tube form) can be seared, toasted, or even layered and baked like a lasagna. We keep the slices on the thick side so they have a creamy texture when heated through. A little ground turkey goes a long way in this dish; stir the rest into chili, make burger patties, or use as a filling for lettuce cups. In addition to mushrooms, this dish is a great canvas for any vegetables you have on hand, such as sliced greens or chopped cauliflower or broccoli.
INGREDIENTS
4 teaspoons olive oil, divided
8 ounces tube polenta, cut into 4 (3/4-inch thick) slices (about half of an 18-oz. tube)
6 ounces ground turkey
2 cups sliced fresh cremini mushrooms (about 6 oz.)
1 cup finely chopped red onion
5 garlic cloves, thinly sliced
1 1/2 cups lower-sodium marinara sauce (such as Dell 'Amore)
2 tablespoons chopped fresh oregano
1 tablespoon red wine vinegar
2 ounces preshredded part-skim mozzarella cheese (about 1/2 cup)
1 ounces Parmesan cheese, grated (about 1/4 cup)
PREPARATION
Preheat broiler with oven rack in top position.
Heat 2 teaspoons oil in a 10-inch oven-proof skillet over medium-high. Add polenta slices; cook slices 4 minutes on each side or until golden brown. Remove pan from heat.
Heat remaining 2 teaspoons oil in a medium saucepan over medium-high. Add turkey; cook 7 minutes or until browned, stirring to crumble. Add mushrooms, onion, and garlic; cook 6 minutes. Stir in marinara sauce, oregano, and vinegar; cook 5 minutes. Pour turkey mixture over polenta in skillet. Sprinkle mozzarella and Parmesan cheeses over pan. Place pan in oven; broil 2 minutes or until cheese is melted and browned.
Source: Cooking Light, December 2017
Serves 4 (serving size: 1 polenta slice and about 1 cup sauce)
Total per serving: Calories 292; Fat 15g; Protein 18g; Carbohydrates 23g; Fiber 4g; Sugars 7g; Sodium 494mg
White Cheddar and Bacon Risotto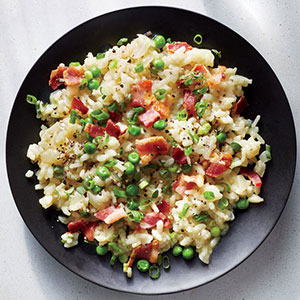 With a flavor reminiscent of loaded potatoes, kids are bound to love this risotto. Frozen peas cook in just two minutes and add a sweet, fresh pop to the dish.
INGREDIENTS
4 cups unsalted chicken stock
2 fresh thyme sprigs
2 bacon slices
1 1/4 cups diced onion
1 cup Arborio rice
1/2 cup dry white wine
1/4 teaspoon kosher salt
1/2 teaspoon black pepper
1 cup frozen green peas, thawed
1 teaspoon finely chopped fresh thyme
3 ounces white cheddar cheese,shredded (3/4 cup)
1/4 cup thinly sliced green onions
PREPARATION
Bring stock and thyme sprigs to a simmer in a saucepan over medium; keep warm over low.
Cook bacon in a Dutch oven over medium for 4 minutes or until crisp. Remove from pan; crumble. Add onion; sauté 4 minutes. Add rice; cook 1 minute, stirring to coat. Add wine; cook 2 minutes or until liquid is absorbed, stirring frequently. Stir in 1 1/2 cups stock; cook 4 minutes or until liquid is nearly absorbed, stirring frequently. Add 2 1/4 cups stock, 3/4 cup at a time, stirring frequently until each portion is absorbed before adding more. Reserve remaining 1/4 cup stock; discard thyme sprigs. Stir in salt and pepper.
Stir in peas, chopped thyme, and cheese; cook 2 minutes. Remove pan from heat; stir in reserved 1/4 cup stock. Divide rice mixture among 4 bowls; top with green onions and bacon.
Source: Cooking Light, September 2017
Serves 4 (serving size: 1 cup)
Total per Serving: Calories 408; Fat 14g; Protein 17g; Carbohydrate 50g; Fiber 5g; Sodium 519mg; Sugars 5g.