Main page content
Blog Category
Insurance Insights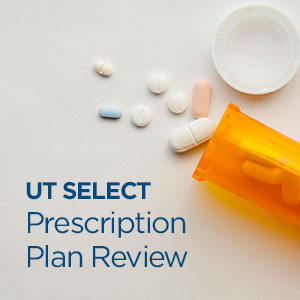 Last month we shared 2016-2017 UT SELECT Medical plan performance summary information to demonstrate how important the plan is to all of the employees, retirees, and families who are covered.
Just as important to our members is the UT prescription drug plan, administered by Express Scripts. The UT prescription program is a part of your UT SELECT Medical plan and is the primary prescription plan for benefits eligible employees and their qualifying dependents. The plan is self-funded, meaning that all claims are paid through premium funds.
Self-funding also means that your out-of-pocket costs (such as premiums for dependent coverage, copays, deductibles and co-insurance) are directly tied to overall costs for the plan. When claims costs rise, premiums and other benefits must be adjusted to a level that covers those costs.
This month we will focus on plan and member costs comparisons of the 2015-2016 versus 2016-2017 plan years, review the way members are classified based upon their prescription utilization, home delivery advantages, and continuing plan strategies for savings in the future.
UT SELECT PRESCRIPTION PLAN COSTS for the past two plan years
The Plan Cost per Member per Month (PMPM) increased by 9.5% from 2015-2016 to 2016-2017. Membership has increased by over 6,800 members in each of the past 2 years.
| | | | |
| --- | --- | --- | --- |
|   | 2015-2016 Plan Year | 2016-2017 Plan Year | Change % |
| Total Plan Cost | $328,870,583 | $370,765,381 | 12.7% |
| Total Average Members | 202,400 | 208,342 | 5.7% |
UT SELECT PRESCRIPTION PLAN PATIENT CARE NEEDS
Another way to survey costs is to examine the trends for patient care needs.
Member Description
2015-2016 Plan Year
2016-2017 Plan Year
 
% Total Members
% Total Plan Cost
% Total Members
% Total Plan Costs
WELLNESS: includes smoking cessation, allergies, anti-bacterial infection treatments
24.1%
1.3%
24.4%
1.2%
ACUTE: Colds & Flu, Strep Throat, Ear infection, Headache, Sprains
17.1%
2.7%
16.6%
2.8%
CHRONIC: Heart Disease, Diabetes, Arthritis, High Blood Pressure, High Cholesterol, Dementia, Back Pain
48.1%
45.2%
47.9%
42.3%
COMPLEX: Multiple Chronic Conditions, such as Heart Failure & Diabetes, Cancer, AIDS, Multiple Sclerosis, Metabolic Syndrome
10.7%
50.8%
11.0%
53.7%
UT SELECT PRESCRIPTION Plan HOME DELIVERY ADVANTAGES
We already know that using the Home Delivery program offers savings and convenience. Home Delivery allows you to receive a 90 day supply of your prescription delivered to your home address for a lesser co-pay amount than if you filled your prescription at the retail pharmacy for 3 months in a row. Did you know that UT members who use Home Delivery also receive full clinical support from Express Scripts?
FACTS ABOUT HOME DELIVERY
208,853 Total Lives Using the UT SELECT Prescription plan
32,908 Members Who Used Home Delivery in 2016-2017
10.5% spoke with Express Scripts Clinical Team (includes nurses, pharmacists, and specialist pharmacists)
58.4% received a clinical safety alert (calls regarding safety, adherence and omission)
There were 114,285 total clinical touches via phone, web, app, or letters.
Summing It All Up
As a self-funded plan, each plan participant affects the performance of the plan by the way they utilize the services. Significant manufacturer price increases year over year may be out of our control, but there are things we can do to help keep premium costs as low as possible.
You can use the Price a Medication feature on the Express Scripts web site to see what the full costs are for your prescription and see if there are any generic equivalents available. You can print out the page and take it with you to your next visit with your doctor to discuss further.