Main page content
Blog Category
Be a Wise Healthcare Consumer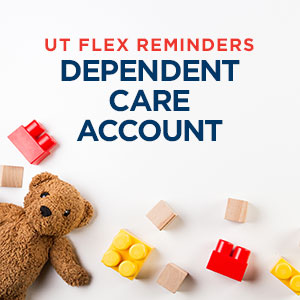 The UT FLEX spending account plans (Health Care Reimbursement Account (HCRA) and Dependent Care Reimbursement Account (DCRA)) are "use it or lose it" plans. Any amounts you do not use throughout the plan year (and during the grace period for the HCRA) will be forfeited.
August 31, 2019 is the last day of the 2018-2019 plan year. It is also the last date by which you can incur eligible DCRA expenses to claim towards your 2018-2019 plan year DCRA election.
This is different from the HCRA in which you are able to incur eligible expenses through the Grace Period (November 15) to use up the funds in your 2018-2019 account.
For both accounts, you have until November 30, 2019 to file claims for reimbursement.
For any questions about your DCRA or HCRA accounts, please contact Maestro Health directly at (844) UTS-FLEX (887-3539) or questions@maestrohealth.com. You can view eligible expenses on the Maestro Health web site: www.MyUTFLEX.com