Main page content
Blog Category
Be a Wise Healthcare Consumer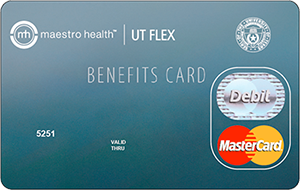 Maestro Health is the administrator for the UT FLEX accounts as of September 1, 2016. Below is some helpful information to make sure you get the most out of your account(s) and start saving right away!  
2015-2016 Dependent Care Reimbursement Account (DCRA) expenses must have been incurred by August 31, 2016.

2015-2016 Health Care Reimbursement Account (HCRA) expenses must be incurred by November 15, 2016.

All unpaid 2015-2016 claims, both DCRA and HCRA, must be filed with Maestro Health by November 30, 2016.
Be sure to verify your election type(s) and amount(s) for the 2016-2017 plan year. Once you made your FLEX elections, you should have received a Confirmation Statement displaying your changes. In compliance with the IRS Code, corrections due to programmatic and/or administrative errors will not be allowed after 31 days following receipt of your first paycheck that reflects your Annual Enrollment elections. You must contact your local HR/Benefits office as soon as possible if you notice something amiss on your Confirmation Statement.
Wrapping Up Business with PayFlex
Please discard all PayFlex Debit cards. Regardless of the expiration date, the PayFlex cards are no longer active after 8/31/2016.
The PayFlex website is still accessible so you access your historical data. Do not upload any claims using this website; these will not be forwarded to Maestro Health for processing. All claims should be filed only through Maestro Health.
Maestro Health UT FLEX Debit Cards
Everyone who elected to participate in the UT FLEX HCRA for the 2016-2017 plan year should have received their new Maestro UT FLEX Debit card by postal mail in a plain white envelope. If you have not received the new Maestro Debit card, please be sure to contact Maestro directly to inquire: (844) 887-3539 ((844) UTS-FLEX).
Your new Maestro UT FLEX card is active as of 9/1/2016. You will have immediate access to your 2016-2017 plan year election amount.  You can use this card for HCRA eligible expenses only. The DCRA does not have a debit card feature.
Any remaining 2015-2016 HCRA balances will be available on the new Maestro UT FLEX card after September 10, 2016.
Accessing Your Account Information with Maestro Health
If you did not enroll in UT FLEX for the 2016-2017 plan year, you will not receive a new debit card. If you have a remaining 2015-2016 balance, please file claims online at www.myutflex.com or use the Maestro Health mSAVE Mobile App. Those who did not enroll for 2016-2017 will be able to register online for these options after September 11,2016.
Log in to the Maestro website to access your account anywhere you have internet access. You will be able to review your account balance, submit a claim, look at the status of existing claims and payments, enroll in Direct Deposit, and more.
Sign up for the Maestro Mobile App online through Apple iOS or Android Store: Maestro Health mSAVE mobile. The mobile app is intended to make your FSA experience easy.
You must register the first time you access your account online or through the mobile app. To register, you will need to use your UT System Benefits ID (BID) as the "Employee ID" number and a Registration ID (Employer ID) which is BBB132002030. 
Examples of where to find your BID can be found on the My UT Benefits login page.
Letters of Medical Necessity 
Collect new letters of medical necessity for items and services as needed. Some examples of items that require letters of medical necessity (LOMN) would include vitamins, calcium, certain dermatological creams, etc. You can submit the LOMNs to Maestro Health online with your claims.
Follow-Up Questions
Please be sure to contact Maestro Health directly for any questions or if you need assistance: (844) UTS-FLEX ((844) 887-3539) or send an email to questions@maestrohealth.com. Their customer service team is available on normal business days from 7:00 am to 7:00 pm Central.
You can review reminders about the transition to Maestro on the transition notice or on their web site, www.myutflex.com. If you have additional questions or need assistance, please contact Maestro Health or your local UT institution's HR or Benefits Office. The UT System Office of Employee Benefits (OEB) is also available to assist with escalated issues.