Main page content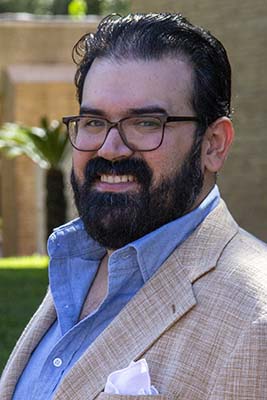 Dr. Josef Aaron Sifuentes, Ph.D.
School of Mathematical and Statistical Sciences
Dr. Josef Sifuentes is an Assistant Professor in the School of Mathematical and Statistical Sciences at The University of Texas Rio Grande Valley. He earned his bachelor's degree in Visual Art, Mathematics and Computational and Applied Mathematics at Rice University in Houston, TX. He remained to earn his doctorate in applied mathematics where he was an NSF Graduate Research Fellow. He continued his adventures in mathematics as a research scientist at the Courant Institute at New York University. He returned to Texas to join the faculty at Texas A&M. His beginning at UTRGV in its first year doubled as a family homecoming as his wife is from the Rio Grande Valley. 
  
In addition to his work in iterative methods in applied mathematics, he has worked to bring students at all levels into the fun of mathematics. He put his background in art to work in developing a summer camp combining math and art for Valley High School students. As co-director of the UTRGV LSAMP Summer Research Academy, he has overseen undergraduate research experiences in mathematics, science and engineering. He has directed more than 10 senior capstone projects and 5 masters students. He has served as the UTRGV Faculty Mentor for the Gulf States Region of the Math Alliance and accompanied many students to present their work at regional and national conferences. In an NSF sponsored collaboration with UT Dallas, he developed a series of YouTube lectures in Real Analysis that are freely available to all who wish to peak under the hood of calculus' engine.