Main page content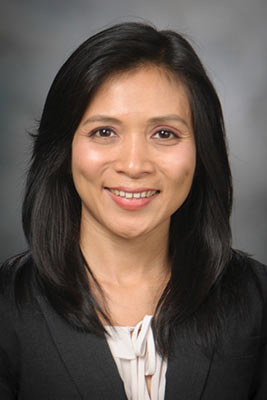 Associate Professor and Director, Surgical Pathology Fellowship Program
UT MD Anderson Cancer Center
Dr. Phyu P. Aung is an Associate Professor and Dermatopathologist in the Department of Pathology at The University of Texas MD Anderson Cancer Center (UT-MDACC). Dr. Aung earned her Medical Degree from the Institute of Medicine of Rangoon (Burma). She received her Ph.D. in Molecular Pathology from Hiroshima University School of Medicine in Japan. Subsequently, she completed a research fellowship at Cleveland Clinic, OH. Dr. Aung then completed her residency in Pathology at the National Cancer Institute/NIH, MD, and after this, she completed her fellowship in Dermatopathology at Boston Medical Center.  
Dr. Aung's passion for teaching and mentoring—more than 100 national and international residents, fellows and practicing physicians in all—has made her legendary among her trainees and mentees. She is a dynamic educator and mentor, and her leadership abilities have been amply displayed in her role as director of the Surgical Pathology Fellowship Program with 14 fellows, the largest ACGME accredited surgical pathology fellowship program in the nation. She is also the site director of Educational Rotation Program, which hosts ~40 rotators per year at UT-MDACC. 
She has mentored ~70 trainees on research projects leading to 8 peer-reviewed grants, ~75 presentations and 70 publications, and 21 teaching publications. She has been an invited speaker, organizer or moderator at ~75 national and international conferences in over 30 countries where she shared her knowledge about dermatopathology and cancer research. 
She was selected as Shirley Stein Scientific Endowed Research Award winner and Faculty Educator for the first quarter of 2021, and Outstanding Faculty Mentor Award from Interdisciplinary Translational Education and Research Training (ITERT) program, and Faculty Excellence Award for Mentorship in Surgical Pathology in 2022 at UT-MDACC. For these accomplishments, she earned early promotion to Associate Professor rank. In addition, she received ASCP Philip Levine for Outstanding Research award and Arthur Purdy Stout Society of Pathology Annual Award for her career achievements in surgical pathology as a young pathologist in 2022.  
For her, it is an "honor and a privilege to help train and mentor the next generation of physicians and scientists." In addition, she is enthusiastic about finding new diagnostic, prognostic, and therapeutic markers for patients with cancers.