Through a partnership between UT System institutions, UT students may enroll in online courses offered at any participating UT Institution "host" campus - helping you stay on track and graduate on time when a required course is unavailable at your home institution.
Currently, UT Arlington, UT El Paso, UT Permian Basin, UT Rio Grande Valley, and UT San Antonio all have online courses that are available to cross-campus students.
The Finish@UT Cross-Campus Registration Portal is the registration and student records management system for students taking online courses offered by participating UT System institutions through the Finish@UT Student Success program. It streamlines registration and the exchange of information between students and campus advisors, registrars and financial aid officers.
Through the registration portal, students currently enrolled at a UT System institution may:
View the schedule of courses accepting cross-campus enrollments. 
Submit online registration requests for courses offered by campuses across UT System institutions. 
Track the status of registration requests throughout the approval process.
Receive immediate email notification regarding the approval or denial of registration requests.
Provide enrollment verification to the home campus financial aid office.
You may view the Finish@UT course schedule without creating an account in the registration portal.
The Finish@UT Cross-Campus Registration Approval Workflow is shown below: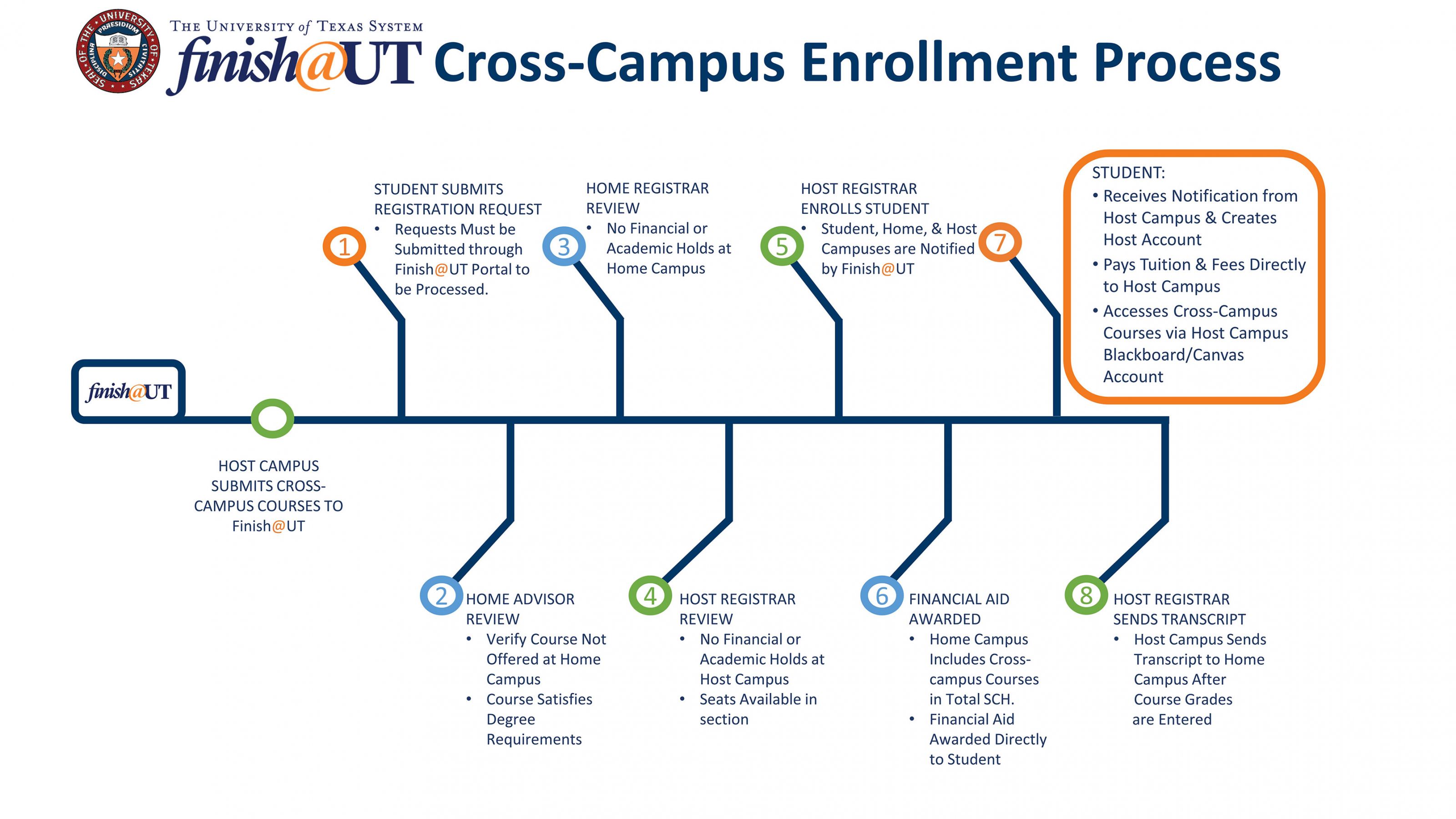 The Finish@UT Cross-Campus Registration Portal operates independently from campus student information systems and requires unique login credentials as a result. If you had an active account in the old system, TIS, then you will use the same credentials to log in to the new portal. 
To access your existing student account in the registration portal, or to create a new student account, follow the steps outlined in Submitting a Registration Request.
Questions regarding your Cross-Campus Registration Portal account? See the Student FAQs page, or contact our office for assistance.