The Capital Improvement Program (CIP) details the U. T. System's long–range plan to preserve and enhance facility assets. The CIP is a six–year projection of major new construction and repair and rehabilitation projects to be implemented and funded from component and System–wide revenue sources. Major new construction and repair and rehabilitation projects are defined in the Regents' Rules and Regulations as those with a total project cost of $10,000,000 or more. Projects that are architecturally or historically significant are also identified as major projects regardless of cost.
Employees of UT System institutions can access the source documents, templates, and other resources used for Capital Project Delivery at U. T. System Management Resources page.
More information about the Capital Expenditure Approval Process (Includes a link to the online Project Planning Form System)
Click the image below to access the CIP dashboard.  The report includes information on current CIP projects, CIP funding sources, project schedules, projects in the definition phase (pre-CIP), all active projects (both pre-CIP and CIP projects), and the data sources used.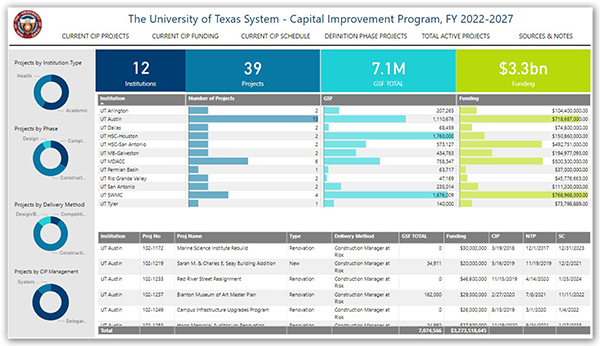 BOR Meeting Deadlines and Requirements for CIP Projects
Deadline for August 23-24, 2023 BOR Meeting
What's Required When Requesting a BOR-FPCC Agenda Item
FY 2023-2028 BOR Approved Full CIP
FY 2023-2028 CIP - Approved May 2023
FY 2023-2028 CIP - Approved February 2023
Archived Reports
FY 2022-2027 Full CIP - Approved February 2022
FY 2022-2027 Full CIP - Approved May 2022
FY 2023-2028 CIP - Approved August 2022