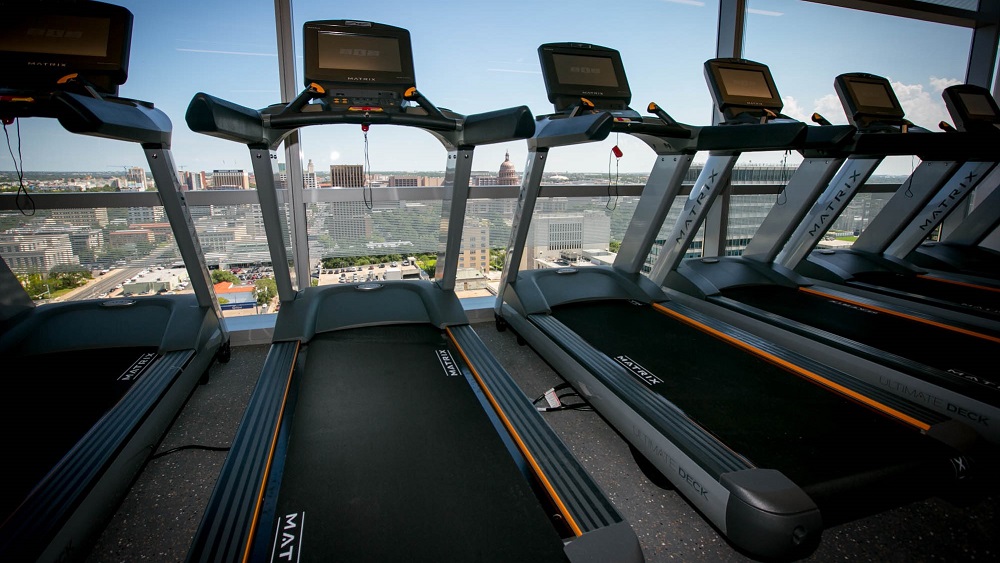 Welcome to the Wellness Center!
Located on the 19th floor of the UT System Building, the Wellness Center is a self-service workout space for building tenants.
Access
The Wellness Center is accessible to UT System Administration employees and other UT System Building tenants who have completed their gym waiver by scanning their badge at the door. If scanning your badge does not grant you access, please call the number listed on the door. Patrons are welcome to bring up to two guests - please see below for guest policy!
Broken Equipment
If you notice broken equipment, please notify facilities@utsystem.edu.
Fans
The remote control for fans is located on the front desk in the Wellness Center. Please be sure to replace the remote once used.
Feedback
We welcome your feedback, comments and suggestions. Please send them to wellness@utsystem.edu.
First Aid Kit
A first aid kit is located at the desk and available for your basic first aid needs.
Guest Policy
UT System employees are allowed to bring up to two guests per visit.
Guest hours:
Monday - Friday: 7am - 8am and 5pm - 7pm
Saturday and Sunday: 7am - 7pm
All guests must:
Must be 18 or older, no exceptions.
Must be accompanied by their UT System Employee counterpart - no guest may be dropped off or left in the Wellness Center alone.
Bring a picture ID.
Sign in as a visitor and complete the guest waiver with the guard in the first floor lobby. The guest waiver needs to be completed only once, however guests must check in with the guard each visit.
The guest waiver is only available as a hard copy.
Gym Waiver
All UT System Employees as well as building tenants must complete the gym waiver prior to their first workout. You will not be able to access the facility without the completed gym waiver.
*Please allow 3 business days between submitting and coming for your first workout for access to be granted.
Hours
Daily: 5:00 am - 10:00 pm (closed 9:30 am - 10:30 am, Monday through Friday)
*Guest access hours differ, please see above. We will be open the above hours during the whole Holiday break.
Locker Rentals
Lockers are available to rent for $50.00/year (September 1 - August 31). Twenty lockers are available for rent in each locker room; the remaining 10 are for day use. We also have small storage lockers in the main room that will fit small items. Lockers are available first come first serve. Please be sure to bring your own lock as they are not provided. (With the exception of small lockers; there are built in locks in each unit.)
If you would like a locker rental, please email facilities@utsystem.edu.
Lost and Found
If you're worried you left something at the Wellness Center, please email facilities@utsystem.edu.
Self-Service Use
The Wellness Center is a self-service space.  Please help keep our space tidy and re-rack weights, wipe equipment and place towels in collection bags.