Michael J. Heidingsfield
Director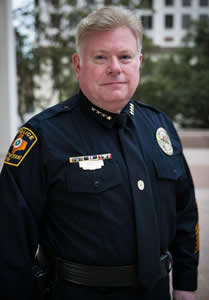 Selected to begin in April 2011 as the Director of Police for the University of Texas System, Michael J. Heidingsfield is responsible for the leadership and operation of the University of Texas System Police (UTSP), composed of 654 sworn officers and 922 civilian staff assigned at 15 University of Texas System campuses across the State of Texas. He oversees each of the 13 university police departments and the respective Chiefs of Police as well as the University of Texas System Police Academy. The UTSP is a state law enforcement agency with primary jurisdiction in the 68 Texas counties where the University of Texas System has real property and delivers full law enforcement services to a population of 330,000 students, faculty and staff plus thousands of visitors daily. Functions include a tactical response team, major crimes unit, an inspections staff, criminal intelligence, a seat at the Texas Fusion Center, internal affairs, counter terrorism, administrative investigations as well as the full array of traditional police services in the field including patrol, canine, criminal investigations, motors and bicycle units. The University of Texas System Police, a single police agency, is the third largest state law enforcement agency in the State of Texas. Prior to being appointed as Director of Police, he served as the Senior Assistant Sergeant at Arms for Police Operations and Homeland Security for the United States Senate and held that position from 2008 to 2011. In that capacity he directly oversaw the Senate's preparations for security of its members, the protection of the Senate both as a complex of facilities and as an institution, the counter-terrorism measures employed to ensure enduring constitutional government and the overarching law enforcement and security measures necessary to guarantee public safety, continuity of operations and enduring constitutional government. He served as a senior participant and advisor for such National Special Security Events as the 2008 Democratic and Republican National Conventions and the 2009 Presidential Inauguration. Preceding his Senate appointment, Director Heidingsfield served for eight years as the President and Chief Executive Officer of the Memphis Shelby Crime Commission in Memphis, Tennessee. Prior to his move to Memphis, Director Heidingsfield served for eight years as the Chief of Police and Director of Public Safety for the City of Scottsdale, Arizona. His law enforcement service in Arizona and Tennessee was preceded by a 13-year tenure at the Arlington (TX) Police Department, leaving there as the senior deputy police chief after having been selected through a nationwide recruitment to lead the Scottsdale Police Department. At the time of his retirement from the City of Scottsdale, he was accorded the title of Chief of Police Emeritus. Director Heidingsfield began his law enforcement career with the University of Texas System Police from 1973-1975. Following his graduation from college, Director Heidingsfield served as an active-duty Air Force officer at the conclusion of the Vietnam War and subsequently retired in 2004 as a full colonel in the Air Force Reserve assigned to the Security Forces Directorate at the Pentagon. He was called to active duty in the wake of the attacks of 9/11 and served as a team chief in the Air Force Crisis Action Center in the Pentagon. He also served as an advisory team member at Camp Delta, Guantanamo Bay Naval Station, Cuba. His Air Force career took him to Europe, Central America, East Asia and the Persian Gulf. He received his BS degree in Criminology from Florida State University in 1973 and his MA degree in Liberal Arts from Texas Christian University in 1990. While at Florida State University, Director Heidingsfield was an Air Force scholarship recipient and a distinguished graduate of the ROTC commissioning program. He is a published author and speaker in the fields of criminal justice policy, policing, leadership and ethics, and has presented before the International Association of Chiefs of Police, Royal Canadian Mounted Police, Major City Police Chiefs Association, Police Executive Research Forum, US Navy Post Graduate School and at Oxford University, England. Director Heidingsfield has provided advice to the Israeli National Police on the issue of violence de-escalation, to the Bermuda Police Service on international law enforcement accreditation and has served as a trainer for the Ministry of Public Security in Costa Rica. He received three gubernatorial appointments for criminal justice posts in the State of Arizona and served as a subject matter expert for the Defense Threat Reduction Agency at Camp Delta, Guantanamo Bay Naval Base, Cuba, on the security of Taliban and Al Qaeda detainees. He also served as an instructor on leadership for the Indonesian National Police executive corps and for a 20-year period was an assessor and team leader for the Commission on Accreditation for Law Enforcement Agencies. While on a 13 month leave of absence from the Crime Commission from 2004-2005, Director Heidingsfield served in Baghdad as the Contingent Commander for the US Department of State's Police Advisory Mission in Iraq. His role was leading the effort to retrain and reconstitute the Iraqi Police Service, overseeing a staff of 1000 in doing so and traveling throughout Iraq. He survived five insurgent attacks during that mission. He was also selected in 2007 to serve as a member of the Congressionally mandated Independent Commission on the Iraqi Security Forces, again traveling to Iraq. More recently, he served as senior police advisor and subject matter expert to the President's Special Envoy to the Middle East for Regional Security. Both his Iraq Commission and Middle East Special Envoy work was done at the request of and under the leadership of past National Security Advisor, General James Jones. Director Heidingsfield is a graduate of the Senior Management Institute for Police, generally considered the most advanced police executive training in the country with faculty drawn primarily from the Harvard University Schools of Business and Government. He served for three years on the Board of Trustees for the Center for American and International Law and is a member of the Florida State University Emeriti Alumni Society.
---
Ruben A. Puente
Assistant Director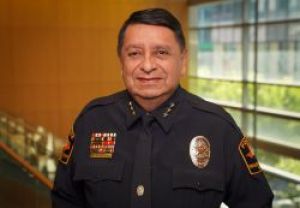 Joining the UT System as Assistant Director in March 2012, Ruben Puente brings 26 years of law enforcement experience along with 12 years of private sector corporate experience, enhancing the leadership, strategic planning and project implementation skills available in the Office of the Director of Police. His past experience includes leadership roles as Director of Safety and Security for The Hockaday School (Dallas, TX) and as an executive with Frito Lay North America, a PepsiCo fortune 50 corporation. As Senior Manager of Corporate Security, he oversaw operations for a workforce numbering 52,000 employees and facilities that includes 18 Regional Offices, 10 Manufacturing Plants and 200 Distribution Centers throughout the U.S.
Assistant Director Puente retired from law enforcement after careers with the Arlington, TX Police Department and the Dallas Area Rapid Transit Police. He is a graduate of several Law Enforcement Executive Colleges and curriculums to include the prestigious Institute for Law Enforcement Administration Management College and School of Police Supervision (Plano, TX), the Sam Houston University "LEMIT" Leadership Command College and is a graduate of the 210th Session of the FBI National Academy, Quantico, VA. He entered the private sector as a Senior Manager overseeing corporate security operations for the Office of the Baseball Commissioner of Major League Baseball, headquartered in New York City, NY. His role with MLB included sport security event planning throughout North America and International venues to include Cuba, Canada, Columbia, Japan, Mexico, and Venezuela.
Assistant Director Puente has successfully leveraged his experiences from both the public and private sectors with outstanding results. He is a highly recognized security professional with a proven ability to identify operational vulnerabilities, reducing corporate risks', mitigating workplace violence threats, prosecuting internal fraud and implementing strategic security technologies.
He currently holds a position as an advisory board officer for the Institute for Law Enforcement Administration and is the Vice-President on the Dallas Sheriff's Academy Advisory Board.
He received his Bachelor of Science degree from the University of Texas at Arlington and earned a Masters of Arts degree from Southern Methodist University and a Masters of Professional Development degree from Dallas Baptist University. He also completed Advanced Graduate Studies in Dispute Resolution at Southern Methodist University and is a certified mediator.
---
David Ferrero
Chief of Staff, Senior Police Inspector II
Since joining the UT System ODOP family in 2008, David has held the position of Inspector, Inspector II and Assistant Director ad interim. This has allowed him to enjoy the joint responsibility for Basic Peace Officer and In-Service Academy training, conducting staff management inspections at the fifteen UT System institutions, coordinating criminal/administrative complaint investigations, performing executive protection duties for Board of Regents and other dignitaries and recommending best practice policy/procedure for System employees in areas including use of force, firearms, wellness/fitness. He is grateful to have shared knowledge and experiences through instructing law enforcement officers for over thirty years on a municipal, county and state level.
A native of San Antonio, David graduated from Sam Houston State University with a Bachelor of Science in Criminal Justice. From 1978 to 1984, he served with the Texas City and League City Police Departments as a Patrol Officer, Detective and Sergeant. David instructed in area law enforcement academies and was recognized for excellence in presentations before the Grand Jury.
In 1984, David began employment with the Texas Alcoholic Beverage Commission. He held positions of Agent, Senior Agent Training Division, Sergeant, Lieutenant, Captain and Assistant Chief of Enforcement ad interim. His tenure included upper/senior management positions both at the Staff and Field level. Upon retirement in 2007, successes include development and implementation of both in house and outreach resources focusing on public safety with underage drinking and intoxication concerns, appearance and testimony in a variety of venues including Senate/House Committees and criminal/civil procedures, as a guest on national syndicated "The Sally Show" to explain underage-drinking initiative, and expert witness for the Commission in use of force trial.
David is a graduate of the Law Enforcement Management Institute of Texas Leadership Command College Class #50, holds a TCLEOSE Master Peace Officer Certification, recognized in the Texas Martial Arts Hall of Fame, member First United Methodist Church Round Rock, Eagle Scout, and active in Boy Scout Troop 157. David is married to Leesa and both are proud parents of four children.
---
Kenneth Baptiste
Police Inspector II
Kenneth Baptiste was raised in Houston TX and began his law enforcement career in 1987. He earned a Bachelor's Degree in Criminal Justice and Criminology from the University of Texas at Arlington and a Master's Degree in Criminal Justice Leadership and Management from Sam Houston State University.  He also holds a TCOLE Master Peace Officer license and a Basic Police Instructor certification.  Kenneth served 5 years active duty in the Air Force as a Law Enforcement Specialist and a Patrol/ Drug Dog handler. He has been deployed to multiple locations including Ali Al Saleem AB, Kuwait in support of Desert Eagle and Manas AB, Kyrgyzstan in support of Operation Enduring Freedom. In 1992, he extended his law enforcement career with UT Houston Police Department (UTHPD) as a security guard. In May of 1994, he graduated from the UT System Basic Police Academy and served as a UTHPD patrol officer for 6 years. In 1998, he relocated to Nashville Tennessee and served as a patrol officer for Franklin Police Department, Franklin TN. In August 2001, he relocated back to Texas and began employment with UT Southwestern Police Department (UTSWPD) at Dallas in October 2001.
 While at UTSWPD, he has held the position of Sergeant and Lieutenant in the Patrol Division. In addition, he served as the Hospital Liaison Sergeant responsible for the development and annual review of the comprehensive University Hospitals (UH) Security Management Plan. Additionally, he was a critical partner in the development of fundamental principles of planning, managing, staffing, delegation and supervision of the police/security force at University Hospitals. Other responsibilities included monitoring, evaluating, and analyzing UH's crime patterns and intelligence to develop strategies for effective policing. Kenneth also served as the Dignitary Protection Detail Team Leader responsible for the planning, managing, coordination and development of protective security operations for the Chancellor, Board of Regents, state and local officials and other dignitaries that included integrating internal and external law enforcement resources as necessary. He also served as the Internal Affairs Investigator responsible for conducting investigations of citizen complaints against police policy, procedure and performance. Kenneth is also a graduate of Institute of Law Enforcement Administration that recognizes the importance of supervision as a major management function and concerned with the professionalism of the management team.  In addition, he is a Certified Crime Prevention Specialist and an Advanced Rape Aggression Defense Instructor.
Kenneth is currently a member of the Joint Forces Headquarters, Texas Air National Guard (TXANG), Camp Mabry, Austin TX. Kenneth has earned the Air Force highest enlisted rank of Chief Master Sergeant (CMSgt). He is responsible for developing, coordinating, and executing Texas Air National Guard domestic response plans in support of the Texas Military Department. In addition, Chief Baptiste assesses State plans, participates in conferences/working groups, and facilitates interagency training to ensure the preparedness of Texas Air National Guard units. He also serves on the Domestic Operations Adaptive Battle Staff to coordinate the deployment, integration, and employment of Texas Air National Guard units on behalf of the Texas Air National Guard Commander.
---
Robert DeRohn
Police Inspector II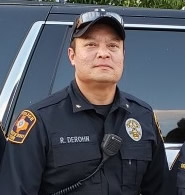 Robert DeRohn began his law enforcement career with his graduation from the University of Texas Police Academy in 2010 as officer at the UTSA Police Department.  Duty assignments were patrol and instructor.  At the inception of the UT System Rapid Response Team (SRRT) in 2011, Robert served as the San Antonio squad leader and overall team leader for SRRT.  He became a Sergeant Investigator with the Office of the Attorney General's Office (OAG), Fugitive Apprehension Unit – Austin, which served felony warrants covering 118 counties in the Austin team's operational area.  Additional duties included planning operations and supporting local, state, and federal agencies within Texas.  These included training, warrant service, missing persons, sex offender registration among other duties.  Robert returned to UTSA Police on a part-time basis in 2018.  He joined ODOP in April 2020 accepting a position as the ARREST, Firearms program manager, range master, and senior team leader for SRRT.  Robert is also an adjunct instructor for the ALERRT program conducting training in active shooter response nationally.
Robert retired honorably from the U.S. Army in 2009 as an airborne infantryman serving in various light infantry and special operations units.  He deployed worldwide in support of combat operations in Iraq (3) and Kosovo (1) among multiple training deployments and exercises.  After being wounded on his third deployment on Christmas day 2006, Robert was given a retirement after fighting for 2 years to remain on active duty.     
Robert holds a bachelor's degree in Justice Administration, master's degree in management with a focus on Organizational Management, and a master's peace officer license.  He holds several instructor certifications and has attended several courses to enhance technical and tactical proficiency.  Robert is a big proponent of knowledge transfer and being a lifelong student.
---
Alexander L. Eastman, MD, MPH, FACS, FAEMS
Inspector and Medical Director, The University of Texas System Police
Medical Officer, U.S. Department of Homeland Security
Lieutenant and Chief Medical Officer, Dallas Police Department
Dr. Alexander Eastman serves as the Senior Medical Officer at the United States Department of Homeland Security.  Responsible for protecting the United States from all threats foreign and domestic, his responsibilities are headquartered in the new Countering Weapons of Mass Destruction Office.  There he works in the coordination/provision of operational medicine across DHS components as well as countering threats to the U.S. worldwide and is a Title 19 Cross Designated LEO with Immigration and Custom Enforcement's Homeland Security Investigations.
A graduate with distinction of the George Washington University School of Medicine, he completed his general surgery and two fellowships at The University of Texas Southwestern Medical School/Parkland Memorial Hospital.  He is board-certified in General Surgery, Surgical Critical Care and Emergency Medical Services and has a Master's Degree in Public Health from The University of Texas Health Science Center--Houston.  Dr. Eastman is the former Chief of the Rees-Jones Trauma Center at Parkland Memorial Hospital and Assistant Professor of Surgery at the University of Texas Southwestern Medical Center and is still a practicing trauma surgeon.  His research interests include the prehospital care of the injured, application of stress inoculation/mitigation techniques to surgical training, novel methods of hemostasis, cost effective wound care and the interface between medicine, law enforcement and public health. 
In addition to the above, Dr. Eastman remains an active Dallas Police Department lieutenant and is currently assigned to their SWAT unit and as the Department's lead medical officer.  He is actively involved in national planning for law enforcement medical support through The USDOJ's Officer Safety and Wellness Group, the Committee on Tactical Emergency Casualty Care, and The Hartford Consensus Working Group.  He serves as the Medical Director for the Major Cities Chiefs Association and is a Special Deputy United States Marshal, assigned as a Task Force Officer to the Fugitive Task Force in the Northern District of Texas.
Dr. Eastman was recently awarded the Dallas Police Department Medal of Valor for actions taken during the July 7, 2016 police ambush and has been previously honored as an Outstanding Young Alumni (2014) from The University of Texas at Austin, the Joe C. Jones Reserve Officer of the Year (2013) and Officer of the Year (2014) from the Dallas Police Department and Dallas Police Association.
---
Darrell Armstead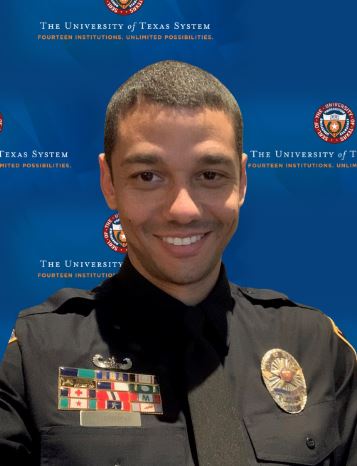 Police Inspector II
Darrell Armstead started his law enforcement journey in 2006 after obtaining a full-ride football scholarship at New Mexico Military Institute. Armstead transferred to Sam Houston State University on another full-ride football scholarship to continue his passion for the SHSU Criminal Justice program. After graduating with a bachelor's degree in Criminal Justice from Sam Houston State University, Armstead was hired at UTMB—Galveston Police Department. He was then selected to attend the University of Texas Police Academy in 2015, where he earned the Top Driver award. In 2016, Armstead tried out for the System Rapid Response Team (SRRT), where he was selected as a team member. In 2017 Armstead was awarded a life-saving award following an incident that involved an intoxicated driver. In 2018 Armstead was recognized by the Galveston 50 Club award as Officer of the Year. Armstead continued to climb the ranks from patrol officer to corporal, where he served as a field training officer and then Sergeant. Armstead served as the patrol and professional standards Sergeant, responsible for internal investigations, recruiting, and training. Armstead's roles included:
the department's training coordinator,
firearm proficiency officer,
Rangemaster, and
instructor on several topics.
During Armstead's time on SRRT, he attended Austin's Police Department's basic SWAT course, TX DPS Texas Ranger Division Special Response Team course, and several Texas Tactical Police Officer Association courses, including the Basic Sniper course and Sniper Team Leader. Additionally, Armstead served as the UTMB—Galveston Team Leader and is currently the SRRT Assistant Team Leader and Sniper Team Leader.
Armstead accepted the position at ODOP's Police Academy as a BPOC Instructor and Fitness Program Manager. Most of Armstead's free time is spent with his family or studying while attending Sam Houston State's master's degree program.
---
Chad Garton
Police Inspector II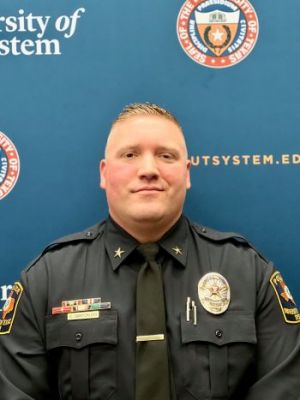 Chad Garton started his law enforcement career in 2008 working for the Santa Clara County Sheriff's Office in San Jose, CA.  Garton attended the Santa Clara County Justice Training Center in Morgan Hill, CA, graduating first in his agency from the Academy, and attaining the "TOP GUN" marksmanship award for highest overall marksman scores.
Garton was first assigned to Court Security from July 2008 to August 2009, and then completed Patrol FTO in December 2009.  From January 2010 until September 2010, Garton was again assigned to Court Security where he was the shift leader for Holding Cell #3 underneath the courthouse.
From September 2010 to December 2011, Garton was deployed in support of Operation Iraqi Freedom/Operation New Dawn in Iraq (US Army) as a Battalion Intelligence Officer.  During his time in Iraq, Garton was tasked with Counterterrorism, Intelligence and Force Protection missions.  Garton was awarded a Combat Action Badge for being engaged by hostile enemy fire in the course of his duties.  Garton and his team created, disseminated, and briefed more than 600 intelligence reports that were viewed by hundreds of Soldiers and Civilians theater wide.
From January 2011-July 2017 Garton was assigned as a Patrol Deputy to the West Valley Patrol Division and was assigned as a School Resource Officer for all Saratoga (City and Private) Schools from January 2015 until July 2017.  During his assignment at West Valley Patrol Division, Garton had several collateral duties including Crowd Control Team Member (October 2008-March 2014), POST Certified Firearms Instructor (May 2014 to July 2017), and Tactical Flight Observer (Helicopter) Crewmember from July 2013 to July 2017.  While assigned to the Patrol Division at West Valley, Garton was awarded the American Legion Award for Valor for rescuing two individuals from a vehicle accident where both vehicles were on fire in 2014.
As a School Resource Officer, Garton designed, planned and implemented Crime Prevention and Emergency Response training and education classes.  Garton acted as the lead point of contact for all criminal and Emergency Response matters for schools located in Saratoga, CA.   Garton investigated crimes and conducted law enforcement services for 6 School districts, 10 schools, and over 6,000 students, faculty, staff and parents.  Garton trained more than 20 different topics to over 30,000 individuals in presentations and events.  Garton was awarded Public Safety Officer of the Year 2017, a US Congressional Commendation and a County of Santa Clara Commendation for his work with the community.
From July 2017 to March 2018, Garton worked for the Texas Department of Public Safety in the Intelligence and Counterterrorism Division/ Texas Joint Crime Information Center as a Crime Analyst.  As a Crime Analyst Garton performed highly complex (senior-level) research/analytical work to collect, process, and disseminate a wide variety of data and information.  Garton conducted assessments of criminal activity, as well as assessments of threats and vulnerabilities to the state's critical infrastructure. Garton supported state counterterrorism initiatives by conducting research and providing analytical assessments related to threats from domestic and international groups.  Garton analyzed intelligence information on organized crime, gambling, and related criminal activities.
From March 2018 until February 2023, Garton worked for The University of Texas at Austin Police Department.  Garton was assigned as a Patrol Officer, Training Officer, and Intelligence Detective.  Garton was promoted to Sergeant in March of 2020 and was assigned as a Patrol Supervisor working midnights and day shift until June 2022.  Garton was then assigned as the Intelligence and Dignitary Protection Detective Sergeant where he managed and supervised Detectives working a variety of intelligence related investigations and Federal Counterterrorism Task Force investigations.  Garton provided and coordinated protection details for Federal and State Senators, Congressmen, cabinet level dignitaries and military dignitaries.
Garton has over 400 hours of terrorism specific trainings from being AT/FP (Anti-terrorism/Force Protection) certified officer for the US Army, to attending advanced level classes in Chemical, Biological, Nuclear and Radiological (CBRN) dispersion and awareness courses.  Garton has focused his knowledge on learning High Value Target (HVT), Critical Infrastructure (CI) and Transit related terrorism.
Garton has a Bachelor of Arts Degree in Political Science with a Minor in Military Science from California Polytechnic State University- San Luis Obispo and spends his time reading Counter/Anti-terrorism and Intelligence blogs.
---
Ashley Griffin
Police Inspector II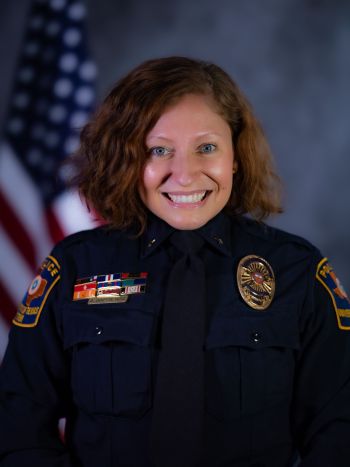 Ashley Griffin started her law enforcement career with the Indiana University Police Department in 2004, where she was a part-time police officer for two years.  During her time there, she was a live-in dorm officer and available on-call for the residential assistants as needed.   
She was hired by the University of Texas at Austin and graduated from the University of Texas System Police Academy in 2007.  In January 2012, she was promoted to patrol sergeant and worked on night shift.  In February 2014, she was transferred to the position as the training coordinator for UT Austin, where she worked for two years before being promoted to Inspector for the University of Texas System Police. 
Inspector Griffin has a bachelor's degree from Indiana University in Liberal Studies, a Certificate in Criminal Justice, and minors in Sociology and Leadership, Ethics, and Social Action (LESA), respectively.  Inspector Griffin has served on multiple TCOLE committees that have developed course curriculums for the state (Traumatic Brain Injuries, Trauma Affected Veterans, the Mental Health Officer courses).  Inspector Griffin currently holds a TCOLE Master Peace Officer license, Mental Health Officer license, Basic TCOLE instructor license, Basic Hostage Negotiator, and certified in Individual and Group Crisis Intervention and Peer Support.  Inspector Griffin is an FBI NA graduate of the #279 class.  Inspector Griffin received her master's degree in public safety from the University of Virginia May 2022.
Inspector Griffin is the UT System Training Coordinator, responsible for all in-service training across the state at each UT institution police department, as well as the UT police academy.  Inspector Griffin is the UT System Peer Support Coordinator, having successfully received DOJ funding to create the first peer support team for each campus police department within the UT System.  This groundbreaking effort was created to help fill the void by having trained personnel, that often do the same job, available to assist others when in need. 
When Inspector Griffin isn't chasing her four children: Quinlan, Sterling, Jacyn and Ilam, she is active doing CrossFit or traveling with her husband, Le'Von (UTSP 81st BPOC).
---
Bobby Harper
Senior Police Inspector II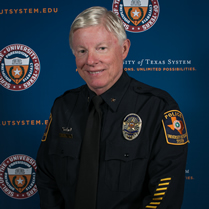 Senior Inspector Bobby Harper joined ODOP in 2010. Bobby was formerly a Lieutenant with the Texas Department of Public Safety. He served with DPS in various capacities including the Highway Patrol, Governors Security Detail, Intelligence Service, Special Weapons and Tactics Team and Internal Affairs. Most recently, he was employed by the National Response and Rescue Training Center at Texas A&M University assisting with homeland security training and exercises. Bobby is a tactical firearms/combatives instructor and a karate black belt. He is a TCOLE Master Peace Officer and is a graduate of the 190th session of the FBI National Academy.
Bobby serves as the first commanding officer of the University of Texas System Rapid Response Team (SRRT) established for an airmobile capable tactical response to acts of terrorism and border violence and is responsible for oversight of UT System tactical operations. He also is the intelligence/counterterrorism fusion center liaison between University of Texas System Police and the Texas Department of Public Safety and manages the UT System 1033, executive protection and special projects programs.
---
Angel Lemmonds
Senior Police Inspector II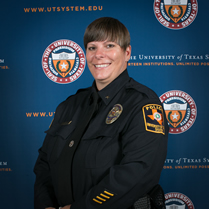 Angel Lemmonds was born in Jasper, Alabama, but grew up in LaMarque, TX and moved to Houston, TX in 2002. She is a Master Peace Officer and holds a Basic Police Instructor's License. Additionally, she holds a Bachelor's degree in Criminal Justice and a Master's Degree in Business Administration from the University of Houston. In 2012, she graduated from the Texas Certified Public Manager program through Sam Houston State University.
Inspector Angel Lemmonds started her career at the University of Texas Medical Branch in Galveston, TX as a guard in 1994; in 1999 she attended the University of Texas System Police Academy. She then joined the University of Texas at Houston Police Department in 2002 and was promoted to Sergeant in 2005. She held the rank of Sergeant for 8 years before accepting the Inspector position at ODOP. While serving the University of Texas community for over 17 years, she has performed various assignments within the UT System Police including Traffic Enforcement Officer, SRT, Field Training Officer, Crime Prevention Sergeant, Recruiting and is currently a Lead Instructor for The Rape Aggression Defense Class.
Outside of police duties, Inspector Angel Lemmonds enjoys traveling the world and experiencing new and exciting adventures. Her recent travels include Costa Rica, Shanghai, Singapore, Hong Kong, Greece, Puerto Rico, and Belize.
---
Geoffrey Merritt
Police Inspector II
Geoffrey Merritt has been in law enforcement since 1997.  He has served on three different college campuses ranging from small private institutions to large public universities.  He has served as a patrol officer, field training supervisor, patrol supervisor, department recruiter and crime prevention unit supervisor.  He has presented at state and regional conferences for Texans Standing Tall and the Texas Alcohol Beverage Commission's College Alcohol Symposium on alcohol enforcement issues.  He also presented at the 12th annual U.S. Office of Juvenile Justice and Delinquency Prevention's (OJJDP) Enforcing Underage Drinking Laws Leadership National Conference.  Inspector Merritt has presented nationally on webinars for Campus Outreach Services on the topic of sexual assault.  He is an Advanced Instructor for the Sexual Assault Family Violence Investigator's Course (SAFVIC) that teaches police officers to effectively investigate sexual assault and family violence cases.  He was selected by the cadets of the 92nd University of Texas System Police Academy as the Instructor of the Year in 2011.   Geoffrey Merritt has a Bachelor of Science degree and has a master peace officer license from the State of Texas.  He is a certified TCLEOSE police instructor and basic Hostage Negotiator.  Geoffrey Merritt is a member of the Texas Municipal Police Association and the Texas Crime Prevention Association.  He became a Certified Crime Prevention Specialist in 2010. 
---
Dr. Jeff Metzger
SRRT Police Surgeon

Medical:
Medical School
The University of California at Los Angeles, Los Angeles, CA - MD
Graduate School (Business)
The University of Texas at Dallas - Master's in Business Administration (Anticipated Graduation December 2013)
Residency
Emergency Medicine - Duke University Medical Center, Durham, NC
Fellowship
Government Emergency Medical Security Services (GEMSS) - The University of Texas Southwestern Medical Center/Parkland Memorial Hospital, Dallas, TX
Law Enforcement:
Tactical Medicine
CONTOMS EMT-T Course Basic SWAT Medic Certification Course (TTPOA) Instructor Self-Aid/Buddy-Aid (TTPOA) Instructor
Law Enforcement
Basic Peace Officer
Basic SWAT (TTPOA)
High Risk Warrant (DPD)
Barricaded Persons (DPD)
WMD Tactical Operations (LSU Course)
Covert Lock Defeating (TTPOA)
FEMA IS100, 200, 700, 800
TSA LEO Flying Armed
CIT Training (DPD)
Terrorism – Threats, Tactics and Training (DHS)
---
Paul Shepherd
Senior Police Inspector II
Inspector Shepherd retired as a 30-year law enforcement professional from the Odessa Police Department in September of 2010. He was the supervisor of the Criminal Intelligence Unit after completing a 10 year assignment as supervisor of the Homicide Unit and the Crimes Against Persons Unit. He has served in the numerous capacities within the department including, Patrol Services, Community Relations, Training Division, Crimes Against Property, Crimes Against Persons Unit (homicide) and was also a Sergeant with the Internal Affairs Unit. He has over 23 years of intense investigative experience in violent crimes. He holds a "Masters Peace Officer" certification as well as an "Instructor's" with TCLEOSE.
He has approximately 25 years experience in crisis negotiations and responsible for the development, training, and implementation of a multi-agency negotiation response team at his former agency. He is a 2007 graduate of the FBI's "National Hostage Negotiation Course," in Quantico, Virginia as well as a 2008 graduate from the Metropolitan Police "National Crisis and Hostage Negotiation Course" in Hendon, England. In each of these, he served as a mentor and student. He has trained over 400 state, local, and federal officers in crisis negotiations and was utilized to train US military personnel in Hostage Negotiations and Hostage Survival, prior to their deployment to Iraq.
In 2010, he received recognition from Director Robert Mueller, III for his negotiation efforts in face to face negotiations with prisoners and obtaining the safe release of two hostages during the Pecos Prison Riots of December 2008. In September of 2010, Inspector Shepherd was invited by the "Black Swan Group" to participate in training the first Crisis Negotiation team from the United Arab Emirates.
In November of 2010, Inspector Shepherd was presented with a "Lifetime Membership Award" from the "Texas Association of Hostage Negotiator's" and in February of 2011, Inspector Shepherd was presented with an appointment as an "Honorary Texas Ranger," to Company "E" of El Paso by Texas Ranger Captain Brooks Long.
---
Rey Treviño
Academy Commander, Senior Police Inspector II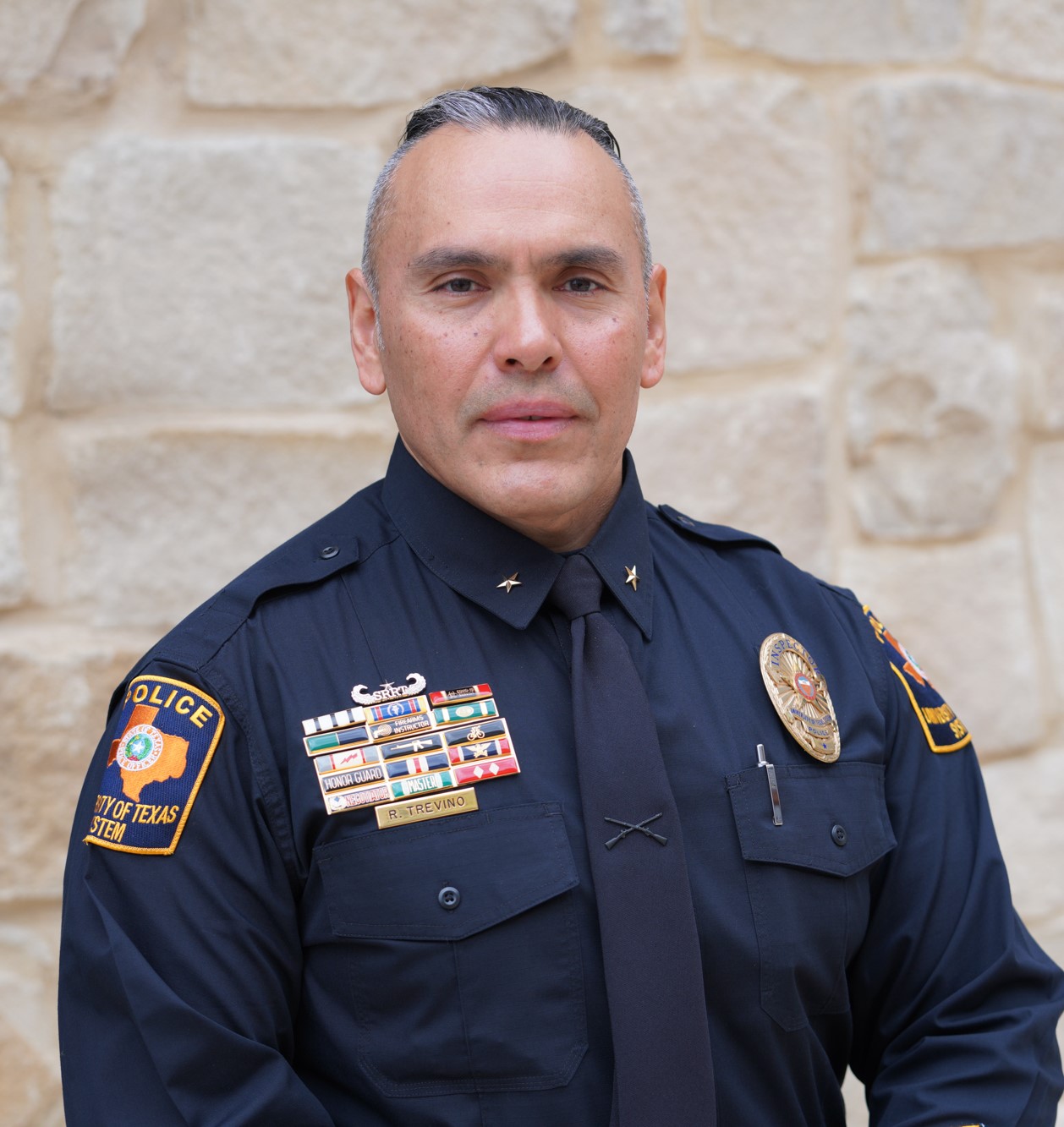 Senior Inspector Treviño started his commitment to public service by enlisting in the U.S. Army as an Infantryman. He was first assigned to the 3rd Infantry Division stationed in Germany and subsequently deployed to Macedonia as part of a United Nations Peace Keeping Mission. While in Macedonia, he was assigned as a Rifleman for his Infantry Platoon and served on the Quick Reaction Force (QRF). While on QRF, he participated in several training exercises where his squad boarded Blackhawk Helicopters and made their way along the border in support of military operations.
Senior Inspector Treviño was next assigned to the 1st Infantry Division and deployed to Bosnia-Herzegovina as part of a NATO Peace Keeping Mission. While on deployment, he conducted mounted and dismounted patrols in and around the town of Brcko. He served as a Radio Telephone Operator (RTO) and as a Squad Automatic Weapon Gunner for his Infantry Platoon. His Platoon was responsible for capturing and detaining several Bosnia Rebels along with their weapons and munitions. His unit also enforced riot control procedures when confronted with an unruly mob after weapons were seized from a Bosnian Muslim cantonment site in the town of Celic.
He successfully completed the 72nd UTSP Academy in December 2001. In August 2002, his Army Reserve Unit was activated in support of Operation Enduring Freedom and ordered to report to the 528th Special Operations Support Command Unit. Shortly thereafter, he was deployed to Baghdad, Iraq in support of Operation Iraqi Freedom. While in Iraq he conducted convoy security operations for Special Operation Units. Treviño completed his deployment and returned to the UT Brownsville PD in September 2003.
Senior Inspector Treviño received his Bachelor's Degree in Computer Information Systems, his Master's Degree in Educational Technology, has a Master Peace Officer License, and holds several Instructor certifications. These include a TCLEOSE Firearms Instructor and FLETC Reactive Shooting Instructor. He has attended various Law Enforcement and Military training courses throughout his career, which includes the Basic SWAT Operator Course and the DPS Advanced Special Response Team Operator Course. He also completed the Precision/Sniper Rifle Operator course, where he received the title of Top Shooter.
He has been a member of the UT System Rapid Response Team (SRRT) since its inception in 2011. While on SRRT, Treviño served in several capacities to include Designated Marksman, Team Leader for the UTRGV PD Team, and now serves as the SRRT Assistant Commander. He has since been deployed on several occasions in support of SRRT Operations around the State.
He is a big proponent of training. "I am a firm believer that you need progressive training in all facets of your career. What got you here, won't get you there. It is important to build on and improve your skillset. It is just as important to pass on this knowledge to your fellow Officers. Prepare yourself, Prepare others, and Lead!"
Senior Inspector Treviño became a member of the ODOP Team on January 4, 2016, when he accepted the position of Police Academy Commander for the UT System Police. In March of 2023, the University of Texas System Police Training Academy's 105th Basic Peace Officer Course (BPOC) successfully passed the TCOLE Basic Peace Officer Licensing exam with a 100% passing rate.  Commander Treviño led the collective effort which culminated in the 20th consecutive class where the UTSP Basic Peace Officer Course Cadets have obtained a 100% pass rate on the state licensing exam.
He enjoys spending time with his wife Annabel, family, and friends. His hobbies include fishing, exercising, and training on the firing range.
---
Administrative Staff
Irene Benavides
Administrative Coordinator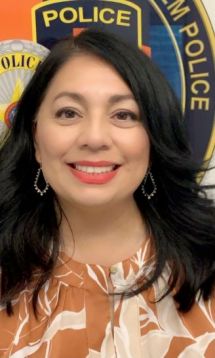 Irene began employment with The University of Texas at Austin Police Department in July of 1993.  While at UTPD, Irene constantly sought out and obtained positions with increasing levels of responsibility within the PD giving her a unique skill set. After 28 years of calling UT Austin Police Department her second home in July of 2021 she accepted the position of Administrative Coordinator with The University of Texas System Police-Office of the Director of Police.  Her various assignments held, experience and 28 years of service working within a component of the University of Texas System Police made her a strong candidate.
In this position, Irene's duties include supporting the day-to-day administrative, financial and operational functions by working collaboratively with administrative staff and executive staff.  Primarily, she will work closely with the Director and assist with correspondence, policy review and updates, annual budget, departmental purchasing, purchase orders, contracts, human resource related functions.  She'll also assist with the UTSP Promotional Process; Reviews- Inspections, Investigations, Use of Force and Pursuit reports. She also is responsible for the design and maintenance of the ODOP Website. She will also monitor the UT System- Aircraft System and coordinates Aircraft System Dignitary Transportation. She's the designated ODOP Departmental Safety Liaison and acts as UT System Notary Public.  
Originally from Houston, Texas, she and her husband of 32 years moved to Austin as newlyweds. Her husband is a retired University of Texas at Austin Police officer. He retired for two weeks and went right back into Law Enforcement and is now protecting the staff and students at ACC Police Department. Her son Brandon is a college student studying to be a Nurse. Her daughter Sarah is a freshman in college and is studying to be a teacher.  Irene loves spending time with her family, watching Hallmark movies, baking and cooking for family and friends.
---
---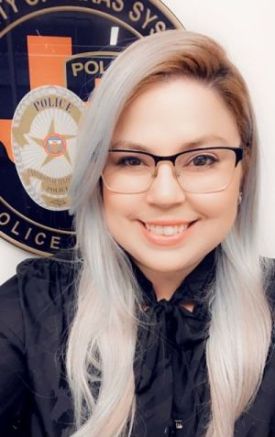 Leslie Garza
Administrative Associate
Leslie began her employment with the University of Texas Rio Grande Valley in 2017 as an administrative assistant working with both the Educational Talent Search and Upward Bound Lyford and Raymondville TRiO programs, serving the Willacy County area. She served her programs in many capacities in order to guarantee the success of those she served, as the target population was first generation, low-income students. Furthering the extension of her support, she was elected as Treasurer for the Texas TRiO Association. The Texas TRiO Association is the representative body for TRIO professionals from colleges, universities and agencies that host federally funded TRIO educational opportunity programs in the state of Texas. TX-TRIO is dedicated to advocating for the TRIO movement by creating opportunities for TRIO professionals and participants with professional development and support.
Originally from McAllen, Tx, Leslie relocated to Dripping Springs in January 2023 when she accepted the position of Administrative Associate with the University of Texas System – Office of the Director of Police. Her role will provide administrative support in the daily operations and functions of ODOP and the UT System Police Academy. She will assist with the planning processes of the Academy including, but not limited to, planning processes for in-service training courses and events, serving as a coordinator and a liaison for federal Department of Veterans Affairs programming, coordination and execution of the Police Academy graduation, inventory management, and manage communication with external stakeholders.
Leslie loves spending time with her family, travelling, golfing, and watching shows such as The Office and True Crime documentaries
Lydia Navarro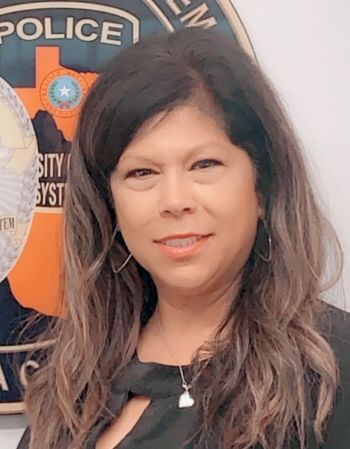 Sr. Administrative Associate
Lydia began her employment with The University of Texas as a clerk-typist at the UT Austin Police Department in October of 1981. She transferred to The University of Texas System Police-Office of the Director of Police in January of 2001 to work as an Administrative Assistant. She recently returned to ODOP after a short retirement. 
Lydia's duties in ODOP include: Police personnel records manager for licensing, training, certifications, promotions, complaints and awards, TCOLE liaison to include: report of training, submission of police personnel new hires, terminations, education, and TCLEDDS access, provides administrative support for police academy BPOC classes to include cadet packet preparation, guest instructor letters, Veteran Affairs liaison, weekly brief, graduation planning, Crime Statistician for Annual Report and Racial Profiling report, and various duties as required.