Body
Assistant Systemwide Compliance Privacy Officer
---
Phillip B. Dendy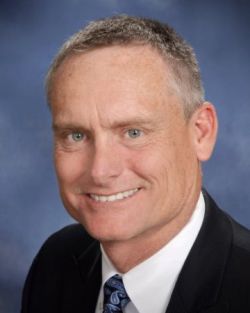 Phillip B. Dendy, CRM, CIC, DRM, serves as the Chief Compliance and Risk Officer for the University of Texas System (UT System). In this role he is responsible for the oversight and direction of three departments, the Office of Risk Management, the Office of Systemwide Compliance and the Office of Information Security. These departments provide comprehensive risk management services to the UT System, its eight academic and six health institutions.
Mr. Dendy has over 30 years in the risk management industry. Since joining the UT System in 1995, he served as Associate Director for Workers' Compensation Insurance, responsible for administration of the UT System self-insured workers' compensation program. From 1999-2003, Mr. Dendy served as Director of Business Administrative Services which included the property and casualty insurance programs as well as facilities, accounting and purchasing, property management, travel, and airplane operations. Since 2003 he has served as Executive Director of the Office of Risk Management providing comprehensive services including risk analysis, risk control, risk financing and claims management. He was appointed Chief Compliance and Risk Officer in July 2016.
Mr. Dendy earned a Bachelor of Business Administration in Management from Texas Tech University. He holds the designation of Certified Risk Manager (CRM) and Certified Insurance Counselor (CIC) from the National Alliance for Insurance Education and Research.  In 2017, the University Risk Management and Insurance Association (URMIA) awarded him the honor of Distinguished Risk Manager (DRM).
Mr. Dendy is a founder, former president, and chair of the board of directors of drops of grace inc, a non-profit faith-based organization partnering with organizations for water, health, hygiene, and community development projects in Malawi, Africa and Nicaragua, and disaster recovery projects in the United States.
His wife, Liz is a registered nurse. Daughter, Madison is a graduate of Texas State University with a degree in Education and lives in Waynesville, Missouri with her husband Rob who serves in the Army and with their first grandson, Patton. Son, Tanner is a graduate of Texas A&M University and is a Mechanical Design Engineer. He lives in Greenville, North Carolina with his wife Colby who is a graduate of Baylor University and the University of Texas Health Science Center at Houston and is a Resident Physician.
Last updated January 2018
---

Arthur L. Culpepper
Arthur L. Culpepper, PhD, FACHE serves as the Executive Director and Deputy Compliance Officer for the U.T. System. His responsibilities include leadership, direction, and oversight of Systemwide Compliance, and providing relevant direction and resources to the institutional compliance offices.
Dr. Culpepper has over 26 years' experience in the healthcare industry, with leadership and operations, enterprise risk management, revenue cycle management and analysis, physician alignment and relations knowledge. His experience also includes military medicine, public health, correctional medicine, telemedicine, Indian health services, and hospital based medicine, with expertise and understanding in the area of population heath management.
Dr. Culpepper earned a BA in Psychology from Abilene Christian University, a MA in Health Services Management from Webster University, and a PhD from the University of New Mexico. He holds the designation of Board Certified Fellow with the American College of Healthcare Executives. He is a veteran of the United States Air Force.
His wife, Donna, is an advertising, marketing and e-commerce professional. Their son Jackson Hunter is a graduate of Oklahoma Christian University with a degree in broadcast journalism and resides in Edmond, Oklahoma where he is an associate producer at News9. Their daughter, Addyson Elizabeth, is a senior at Pepperdine University in Malibu, California.
Last updated February 2017
---

Trey Atchley
Trey Atchley serves as the Chief Inquiry Officer for the U.T. System. His responsibilities include conducting and managing investigations involving allegations of misconduct requested by the chancellor, board of regents, deputy chancellor, and chief compliance and risk officer. He also assists, conducts, and oversees investigations referred by the fourteen U.T. Institutions. He maintains contracts with external investigators and works closely with the general counsel, chief audit executive, executive officers and law enforcement. Mr. Atchley leads the U.T. System Triage Team consisting of representatives from compliance, legal, human resources, audit, and health and academic affairs.
Prior to joining the U.T. System, Mr. Atchley served as a special agent with the Federal Bureau of Investigation (FBI) for approximately 21 years. In that capacity, he investigated violations involving both criminal and national security matters. He was responsible for partnering with cleared contractors and universities conducting proprietary research, and was tasked with assisting those companies and institutions in protecting their proprietary or classified work from exploitation by state sponsored actors. Mr. Atchley was certified by the FBI as an adjunct faculty member and authorized to provide instruction in crisis and hostage negotiation matters, and interview and interrogation topics. He was also certified by the Department of Justice to conduct employment-related mediations. Mr. Atchley served as the San Antonio Division crisis negotiation coordinator for approximately seven years. In that role, he was responsible for coordinating 12 hostage/crisis negotiators as they responded to domestic crisis situations and international kidnappings for ransom.
Mr. Atchley received his BBA from The University of Texas at Austin and his JD from the SMU Dedman School of Law. Mr. Atchley is a licensed attorney in the State of Texas.
Last updated January 2017
---
Jason King
Jason King serves as the Associate Systemwide Compliance Officer and Ethics Officer for the U.T. System. He provides guidance on a number of issues; including conflicts of interest, nepotism, gifts, honorarium, and political activity.