October 19, 2016
Welcome to this edition of  HR & Benefit News. Always feel free to send us your comments and questions.
---

NEW PLAN YEAR  
Annual Enrollment 2016
Is it really October already? Time flies! This Annual Enrollment (AE) season, OEB representatives attended 24 Benefits Fairs that spanned systemwide. Each event was a success. On behalf of OEB, thanks to each of you for your hard work and effort this AE. Please take a moment to review the stats for this past AE season. 

---
IMPORTANT  
2016-17 Plan Year Reminders
October is upon us. To ensure your 2016-17 Benefits Plan Year is off to a great start here are a few reminders:
Review and edit any outdated electronic or printed UT Benefits information throughout your HR/Benefits office and on your website.

Be sure you are using the 2016-17 Benefits Enrollment / Change and COBRA Applications. All forms are available through the OEB Systemwide SharePoint portal's, Libraries / Insurance Files folder.  

 You may download an individual pre-populated 2016-17 COBRA Application through SGELIG by clicking the Summary-Status Code field. As a best practice, please review the application to ensure all applicant and eligibility information is accurate.

Review all links on your institution's website to ensure they are routed accordingly, particularly any links to specific Living Well resources (see next article for more information). 
---

NEW  
Living Well Website
The website for our UT System Living Well program has been updated. The refreshed layout and navigation menu offers a streamlined design that aligns with the main OEB website.
Before you begin to explore the new Living Well website, take a few moments to ensure all wellness links from your institution's website are updated to connect people to the appropriate page. Any old links that are accessed will be automatically redirected to the new Living Well home page.
We want to hear from you! Feel free to browse the Living Well site and share any feedback via email to livingwell@utsystem.edu.   
---

UPDATE  
Conseco Fair Funds
In August, many institutions began receiving checks from the Conseco Fair Fund Administrator made payable to various individuals. These checks represent shares of a settlement for market timing against the Conseco family of funds. Participants invested through the University of Texas during the market timing are eligible for the settlement funds. Traditionally, these checks are sent directly to the provider. In this case, they were delivered to various institutions.  
If you receive any of these checks, please forward them to UT System's Office of Employee Benefits, Attn: Charles Marrs, for distribution. UT System, as the plan sponsor, is working with the providers and individuals (e.g. those without an active UT account), to ensure the settlement funds are distributed properly.
If you have any questions about the settlement process, please feel free to contact OEB Senior Retirement Analyst, Charles Marrs by phone at (512) 499-4662 or by email at cmarrs@utsystem.edu.
---
IMPORTANT  
UT FLEX Documents
Updated forms for the UT FLEX program are available on the OEB Forms and Publications page. Please ensure all links from your institution's webpage are valid. 
Reminder: It is not possible to transfer over any prior Letters of Medical Necessity that were on file at PayFlex. Participants that require a Letter of Medical Necessity for health care expenses must complete and return the form to Maestro Health.
---
REMINDER  
UT FLEX: Emergency Updates (1ERs)
Do you recall the process for sending UT FLEX emergency updates (1ERs)? If it feels a little hazy, do not fear! We'd like to share a few reminders for processing urgent requests related to UT FLEX accounts.
When should I send a UT FLEX Emergency Update?
Your institution should submit an emergency update if…

The participant's UT FLEX enrollment effective date is prior to the date your institution transmits the next payroll dataset. 

The participant requires a correction to the annual contribution value.

The UT FLEX participant has experienced a change of address that needs to be updated prior to the date your institution transmits the next payroll dataset (e.g. when a participant is expecting a reimbursement check to be issued and needs it to go to the new address).
  What is the UT FLEX emergency update process?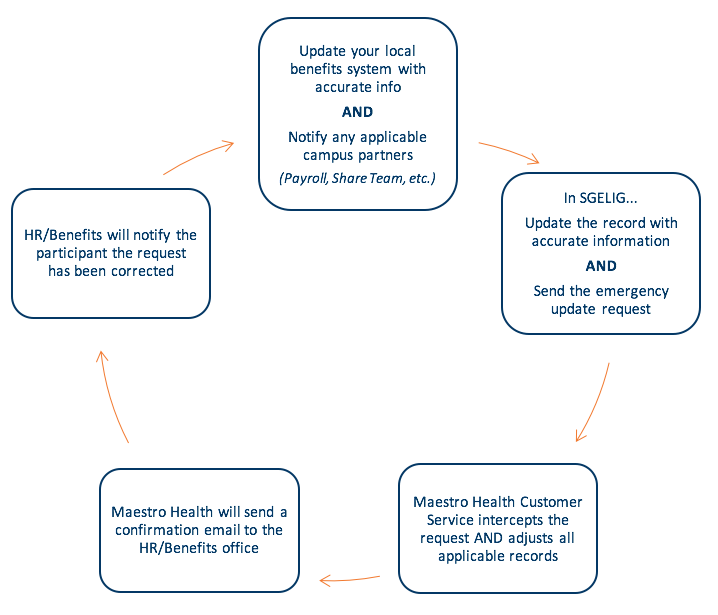 What is Maestro Health's response time for an emergency update request?
As a standard included in all OEB Contractual Agreements, each insurance vendor has four business hours to resolve an emergency update request. The window of time begins when the HR/Benefits administrator submits the initial emergency request. The timeline as to when you can expect a request to be completed can vary depending on what time of day the request is submitted. For example, if a request is placed during the late afternoon hours, the vendor may have until Noon the next business day to resolve it.
Since emergency requests are urgent in nature and employees may be anxious to know when they can expect the update to be completed, as a best practice you may want to consider setting the expectation with your employees that requests are typically handled within a 24-hour period. This step may offer comfort and assurance their concerns are being addressed without inadvertently setting up an unrealistic expectation that a request submitted close to 5pm will be resolved by 9pm.  
Important Note: If urgent medical or prescription care is necessary, please advise the member to seek appropriate care. Once eligibility records have been updated, claims can be filed or adjusted accordingly so that the correct benefits are applied. No one should delay obtaining critical care due to an eligibility issue.
---

HELP!
Benefits Contacts
A lot has changed since the launch of the HR/Benefits Newsletter! There has been institution staff transition, new vendors, a new Chancellor, new university leaders, and the list continues.
Our office would like your assistance toward developing an up-to-date contact list for this Newsletter. We are requesting the names and email addresses for any staff you wish to have access to this Newsletter. Please provide this information to OEB Senior Benefits Analyst, Tiffanie Carter at tcarter@utsystem.edu by November 2, 2016.
---

WELLNESS 
Activity Challenge
Walktober, our new Activity Challenge is underway from October 3, 2016 - November 2, 2016. UT SELECT members aged 18 and above who registered for the challenge can log their activity using the new challenge platform at www.utlivingwell.com.
For more information, visit: www.utsystem.edu/offices/employee-benefits/lw/activity-challenge
---

HEALTH
Nutrition
The Naturally Slim program is also underway for the Fall. As you may recall, Naturally Slim is an online behavioral program that helps participants establish healthier habits by focusing on "how" to eat rather than what people eat.
Our program is off to a great start! There were 10,373 applicants, of which 10,131 were accepted into the program. All participants received notification from Naturally Slim on September 1, 2016 regarding their acceptance or deferred entry into the program.
For members that were unable to participate in the program during this Fall term, a new session will be offered early 2017. Continue to review your email inbox for more details.
To learn more about Naturally Slim, visit: www.utsystem.edu/offices/employee-benefits/lw/naturally-slim
---

COMING SOON
Annual HIPPA Privacy Training
The annual Health Insurance Portability Accountability Act (HIPAA) Privacy training is coming soon.  Barbara Holthaus, the Assistant General Counsel for UT Group Insurance Program, System Administration Privacy Officer & Systemwide Privacy Coordinator, will lead this discussion on Thursday, November 3, 2016 from 1:30PM to 2:30PM.
We ask that your office view this Zoom presentation in a group setting. There is a 98 participant maximum capacity allotted for this meeting and we would like to ensure that everyone who is interested has the opportunity to join in. For those unable to participate, the presentation will also be recorded and made accessible through the Systemwide HR Central SharePoint site.  
Please mark your calendars and join us! 
---
DID YOU KNOW?
Financial Retirement Planning: Communication
The August 2016 edition of the A Matter of Health Newsletter: Retirement Corner referenced a few tips when discussing your retirement accounts with Teacher Retirement System of Texas (TRS) and the five UT System retirement providers. To access this article, click here.
As a reminder, members planning their TRS retirement may schedule an in-person appointment at the TRS office in Austin or, attend any of the group presentations facilitated by TRS throughout the state of Texas.  For additional information regarding TRS presentations visit the TRS website or contact their office by phone at (800) 223-8778.
---
DON'T FORGET!
UT FLEX Deadlines for FY2016 Accounts
| | | |
| --- | --- | --- |
| UT FLEX Account | Deadline to Incur Expenses | Deadline to Submit Claims |
| Health Care Reimbursement Account (HCRA) | November 15, 2016 | November 30, 2016 |
| Dependent Day Care Reimbursement Account (DCRA) | August 31, 2016 | November 30, 2016 |
---

UPDATE
Vendor Contact Information
Below you will find a list of recent updates to the contact information for some of our insurance vendors. To download a copy of the updated Internal Insurance Vendors Contact Information for Plan Year 2017 (PDF), please visit the "Contacts" section of the Systemwide HR Central SharePoint.
Maestro (UT FLEX)
Contact Information
Customer Service Phone: (844) UTS-FLEX (887-3539) Toll Free Fax Number: (844) 306-8147 Website: www.myutflex.com
Claims Address
Maestro Health P.O. Box 2370 Matthews, NC 28106
General Escalated Issues:
Sarah Baldwin Phone: (704) 321-3164 Email: sbaldwin@maestrohealth.com