Main page content
Assistant General Counsel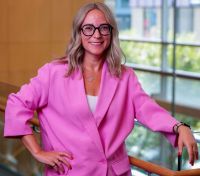 Audra Gonzalez Welter originally hails from the Rio Grande Valley. She ventured northeast for a bachelor's degree in history from Wellesley College in 2003. Audra came back to Texas to obtain her law degree at The University of Texas School of Law in 2006. After graduation, she served as a federal law clerk to The Honorable Randy Crane in the Southern District of Texas, McAllen Division. 
She then worked in both the Houston and Austin offices of the law firm of Jackson Walker LLP as a litigation associate. She handled a variety of civil matters including defamation and contract cases involving high profile attorneys, well known media personalities, and TV stations.  Audra also tried many small claims cases on behalf of Lufthansa Airlines. In 2013, she was a recipient of the Texas Civil Rights Project's Kristi Couvillon Pro Bono Award, which is presented annually to attorneys who handle significant cases for the Texas Civil Rights Project. 
She first joined UT System in the Office of General Counsel in 2014 working primarily in the area of public information. Audra then moved to Amsterdam for 4 years to relocate for her husband's employment. Upon coming back to Austin, she joined the boutique law firm of O'Hanlon, Demerath & Castillo litigating K-12 school law matters on behalf of school districts around Texas. In March 2022, she returned to UT System's OGC and provides advice and counsel in litigation matters and public information act requests. 
She enjoys spending time and traveling with her husband, daughter Josephine (7), and her Siamese cat, Twilight Sparkle.