Effective immediately, office supply orders from Today's Business Solutions(TBS)/OfficeMax can be made through the new eShop system via PeopleSoft.
While office supply orders can be made using a Procard through the TBS website through June 23rd, we encourage your department to become familiar with the eShop system at your earliest convenience.
Each department will have their own process for the purchasing of office supplies, so please contact your department's office supply contact to find out what your process will be with the new eShop system in place.
For…
Plans for the System Administration Picnic, which was planned in place of a System holiday party and scheduled for June 3, have changed. Staff Council and the event committee determined that the timing was not ideal due to end of the school year, family vacations, the potential for a special legislative session and anticipated summer temperatures given the party would be outdoors in the middle of the day. Staff Council is now considering other options, including possibly a "New Year's" reception to celebrate the end of the current fiscal year in conjunction with…
We are all excited to move into our new building and we know that our new spaces spark lots of questions. We have created a document that provides details about the Wellness Center including information about the equipment, locker rooms and additional FAQs your reference. If you have a question not addressed here, please email your question to Kendra at kbolton@utsystem.edu. We will update the list periodically, so please check back!
…
Cloud storage refers to any program owned by a third party that allows you to upload your data using the Internet. An advantage of cloud storage is that you can easily access and synchronize your data from multiple devices anywhere in the world, and you can share your information with anyone you want. This type of online storage can make you more productive, but it also comes with security risks.
In accordance with UTS165 Information Resources Use and Security Policy and the Information Resources Acceptable Use Policy, UT System Administration employees must use an approved…
The Office of Human Resources is pleased to announce the ability to set-up multiple direct deposit accounts electronically. If you're interested, please use the Self-Service Direct Deposit Job Aid.
The University of Texas System Administration will be observing National Take Your Child to Work Day on Thursday, April 27. The goal of Take Your Child to Work Day is to give children ideas about various career paths and the education and skills needed to achieve their professional goals. The Staff Council has planned an organizational overview to highlight their parent's work environment.
You are encouraged to bring your children ages 8 through 18.
Time
Activity
Location
11:00 a.m.…
Our annual performance appraisals are coming up. This is a great opportunity to discuss goals, expectations, and performance standards. Remember performance appraisals is a collaborative process that involves the employee and supervisor.
What's Next:
Attend upcoming training (optional)
Complete your self-review
Meet with your supervisor to discuss your appraisal
Start planning for 2018
Remember, the Office of Human Resources (HR) offers tools and training to maximize the effectiveness of these performance appraisals…
OTIS has designed a new interim timesheet (Employee Timesheet System) to replace our current (also interim) SharePoint solution. SharePoint could no longer handle the year end influx of timesheets and we want to avoid problems we've experienced over the past two years. The end goal is still to utilize self-service timesheets in PeopleSoft so we will have another upcoming transition though not currently scheduled.
In preparation for the rollout, please ensure you're up-to-date with submissions. Also, please scroll through your timesheets to ensure none are in a form state requiring…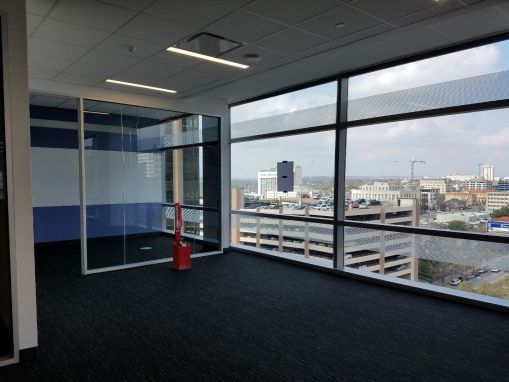 A photo from the 11th floor. A Huddle Room is on the left. The white band is a markable wall surface.
WOW! So much is going…
Though tax-related scams are particularly prevalent in the U.S. at this time of the year, identity theft protection is important year round. The following video and infographic provides tips that all users can benefit from, including how to spot and avoid phishing emails, smishing (SMS/text phishing) scams, vishing (voice phishing) phone calls, and fake letters that claim to be from the Internal Revenue Service (IRS), tax filing services, and other tax-related agencies.
Avoid Tax-Related Scams Video: https://youtu.be/1KsizC-zbOM…
UT System Administration Employees;
IRS Form 1095-C will be printed and mailed to current and former employees, retirees and other covered individuals by March 2, 2017. You are not required to wait for Form 1095-C before filing your personal income tax return.
What is Form 1095-C?
This form provides information about the university's health insurance offer and months of coverage for employees, retirees, and other covered individuals. The Affordable Care Act (ACA) requires most individuals to have qualifying health coverage, also referred to as minimum essential…
Join us for the first webinar of the Discover Break series. Hosted by OSI, the Discover Break series gives you an opportunity to discover and enhance your skills, knowledge, thinking, and learning abilities through informative sessions and webinars.
Discovery Break Webinar
When: Thursday, March 9, 2:00 p.m. - 3:00 p.m.
Topic: Using State Workforce Data to Examine Postgraduation Outcomes
Hosts: Dr. David Troutman & Jessica Shedd
This…
The Employee Service Awards Program is scheduled to take place on Friday, February 10, 2017 from 2-4pm in the Intercontinental Stephen F. Austin Hotel Ballroom. Refreshments will be served following the ceremony.
Parking Details:
Since the employee parking in our 3 garages are at capacity, paid parking will be provided for those that are receiving a Service Award on Friday at the One American Center parking garage (a map is attached). If you are located in Austin at LCRA, Moody Bank or the OFPC Comal office, please get a validation sticker from the registration desk…
A lot has happened since the last update!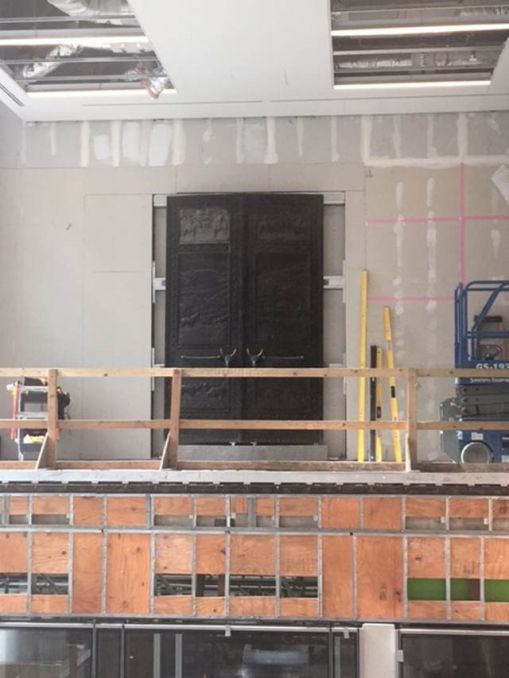 The lights on the 11th floor have been powered up and ceiling tile is being installed, the glass in the office fronts are being installed on the 2nd floor, conditioned air is…