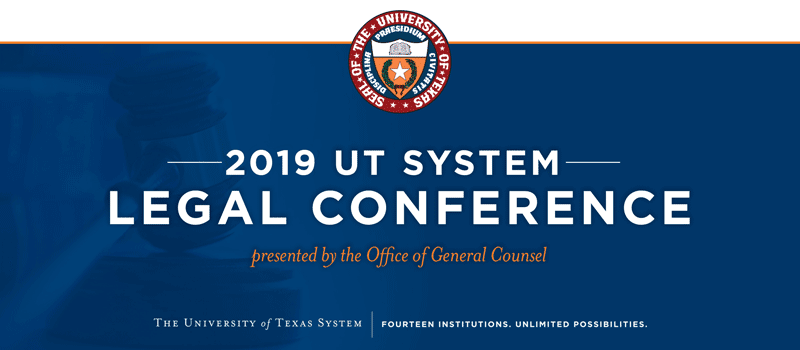 ABOUT THE CONFERENCE
The 2019 UT System Legal Conference was held September 26-27, 2019, at The University of Texas System Building. The conference was developed to offer informative and practical sessions on a wide range of topics relevant to attorneys at UT System academic and healthcare institutions. Our speakers shared their expertise and insights on high-profile legal issues, as well as on matters that higher education attorneys face on a day-to-day basis. Given the variety of our attorneys' practice areas, the program included breakout sessions to provide attendees more options that related to their fields.
A conference highlight was the keynote address from James B. Milliken, Chancellor of The University of Texas System. Sessions covered First Amendment issues on campus, fraud and abuse in the healthcare system, leadership, outside counsel management, and crisis communication. Check out the 2019 Legal Conference Agenda for the full list of speakers and topics. To review speaker bios, visit the 2019 Legal Conference speakers page. In addition, speaker materials were provided for some sessions and are available, with UT authentication.
In addition to the substantive legal topics covered, the conference provided attorneys across the System a unique opportunity to strengthen relationships with colleagues.