Performance management is an ongoing communication process between a manager and employee which supports accomplishing the strategic objectives of the organization.
A successful performance management program helps organizations retain talented employees, keep them engaged, enhance learning, build a winning culture and be successful.
At UT System Administration, employees are encouraged to talk throughout the year about performance and how job expectations link to organizational goals.
Performance Management Cycle
During annual performance appraisals is when employees will hear more about performance management, however, the annual performance appraisal is only a piece of performance management.  It is important to know that Annual Performance Appraisals is not the same as performance management and it is not the most important piece either.
The complete performance management cycle is depicted below.  The Office of Talent & Innovation (OTI) at UT System Administration encourages all employees to follow this cycle.  Whether you are a leader or a self-contributor, your involvement in this process throughout the year will help ensure annual appraisals add value to overall performance, productivity and efficiency while supporting UT System initiatives.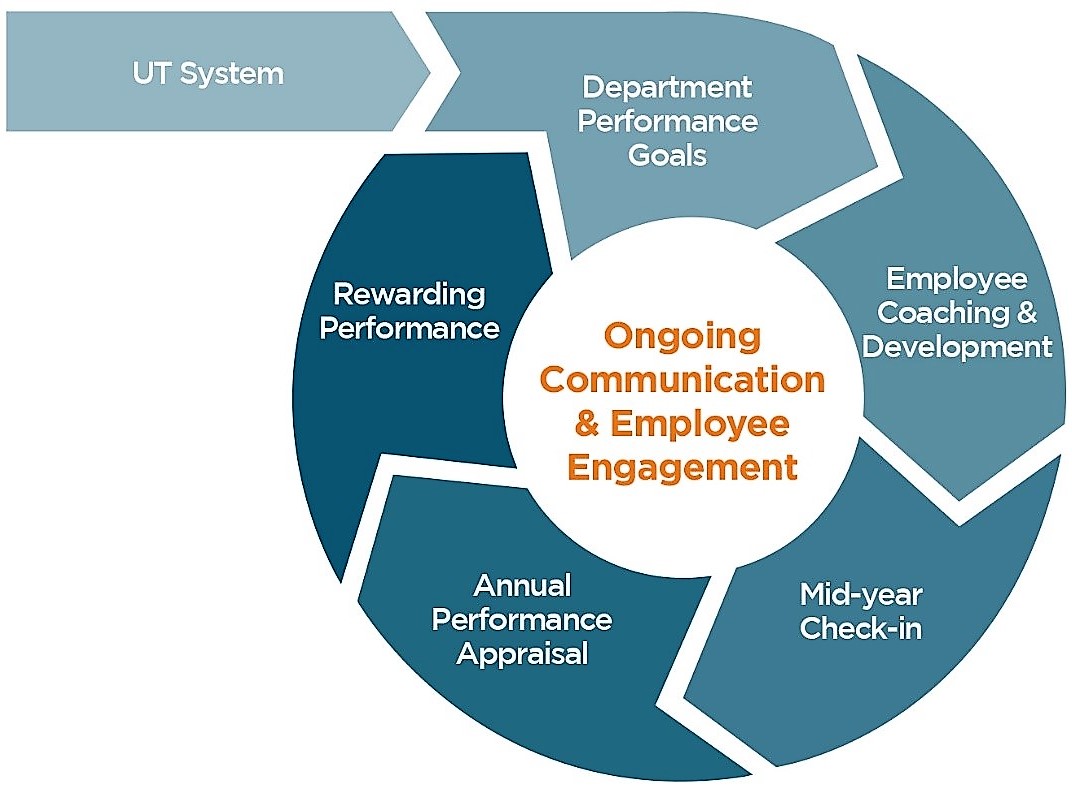 Tips for Probationary Employees
New, classified employees are considered probationary employees for the first 180 days of UT System employment. This 180-day timeframe allows managers to assess whether skills, performance and dependability fit the functions of the position and merit continuation of employment.
Employees should take the following steps to manage performance during the probationary employment period:
Review UT System's policy regarding probationary employees (HOP 3.5.1) during the departmental orientation or individually with the manager
Review the position description and discuss expectations and standards of performance with the manager
Become familiar with work rules regarding:

Reporting to work in a regular and timely manner
Scheduled breaks or lunch periods
Reporting sick leave use and other absences
Dress codes/standards
Appropriate conduct
Conducting yourself in accordance with designated safety rules
Departmental work rules

Seek manager feedback regarding performance
Request periodic performance evaluations throughout the probationary employment period
Tips for All Employees
Employees should continuously look for opportunities which foster a mindset of striving for excellence while collaborating with team members and coworkers.
Take the following steps to manage performance:
Periodically review manager expectations
Actively participate and listen during performance appraisals (review the performance appraisal form)
Listen to feedback and receive coaching with an open mind
Take part in training and development activities for individual growth and improved departmental performance
Work with your manager to clarify short-term and long-term objectives, and formulate strategies and plans to achieve objectives
Make sure there is clear understanding of priorities and timeframes for the implementation of objectives
Be the best employee you can be by providing a high quality of service, committing to achieving goals, and setting an example for others to follow
Understanding Performance Management
OTI offers performance management training on a yearly basis and has some resources available below.  Take advantage of those resources and feel free to explore the Learning Zone for additional training courses designed to help manage performance.  Visit related policies and procedures or contact your HR Business Partner to request additional services that can help you better understand and address performance management questions that improve workplace effectiveness.
Frequently Asked Questions
What are the main differences between performance management and performance appraisals?
Performance management is an ongoing managerial process while performance appraisals are a tool used to formally evaluate an employee's job performance 90 days after the employee's hire date, prior to the 180th day of employment and annually.
Why are performance appraisals important?
Appraisals provide an opportunity for a formal communication between employees and managers. Appraisals also help to develop opportunities which will strengthen the organization and provide a foundation for rewarding performance.
When are performance appraisals conducted?
Annual appraisals are conducted in June for performance of work during the period of June 1 through May 31. For probationary employees (new classified employees who have not satisfied the six-month probationary period), appraisals are conducted at 90 days of employment and again before the 180th day of employment.
How are appraisals conducted?
The appraisals are conducted using a web-based performance appraisal system.  The system, PeopleSoft ePerformance, provides an automated solution for conducting employee appraisals and tracking performance goals and expectations.
How do I access ePerformance?
Links to access PeopleSoft are located on UT4U under the main heading, UT4U Quick Links as well as OTI Quick Links.
Select The University of Texas System Administration as your home institution.
Enter your SNAC user name and password. You will be required to utilize Duo 2-Factor Authentication.
Select the Performance tile from the Employee Self Service landing page.

Managers who would like to evaluate their employees, should navigate to the Manager Self Service landing page and select the Team Performance tile.
Employee Resources
Manager Resources
Goal-Setting Resources
Technical Resources
Probationary Appraisal Resources
Related Policies