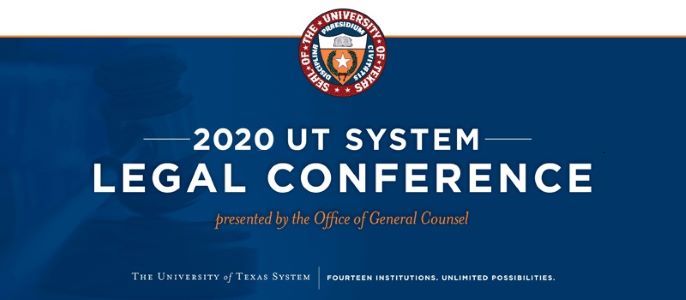 SPEAKER
BIOGRAPHIES


Krista Anderson, Systemwide Title IX Coordinator
The University of Texas System
Austin, Texas
Krista Anderson serves as the Systemwide Title IX Coordinator for The University of Texas System. Ms. Anderson's responsibilities include providing systemwide guidance and resources on Title IX & Sexual Misconduct, Clery Act requirements, and Youth Protection Programs for minors on campus.
Ms. Anderson has over 13 years of student affairs and higher education experience including overseeing a campus-wide Title IX program, developing victim advocacy services for students, administering a campus-wide crisis management program for student emergencies, managing threat assessment and behavior intervention strategies for student wellness issues, and working in residence life and academic/graduate affairs in additional capacities.
Ms. Anderson previously served as the Associate Vice President and Title IX Coordinator for The University of Texas at Austin, and she was with U.T. Austin for almost 7 years in various roles before joining the U.T. System. Ms. Anderson earned a B.S. in Applied Sociology, and an M.Ed. in Counseling and Guidance (with an emphasis in student affairs), both at Texas State University.
Devin J. Benavidez, J.D., Associate, Litigation
Skadden, Arps, Slate, Meagher & Flom LLP and Affiliates
Washington, D.C.
Devin Benavidez is an associate in the litigation group of Skadden's Washington, D.C. office. Mr. Benavidez advises individuals and corporations in complex civil litigation and high- stakes government enforcement matters brought by the Department of Justice and Securities and Exchange Commission.
Mr. Benavidez's representative clients include:
a public company in connection with an investigation involving alleged violations of

the

Foreign Corrupt Practices Act;
a former executive of a major financial institution in several arbitrations before

the

Financial Industry Regulatory Authority (FINRA); and
managers of a trust in a multi-jurisdictional dispute

over

the proper allocation of

trust

assets.
Mr. Benavidez also maintains an active pro bono practice, representing inmates in post- conviction proceedings.
Prior to joining Skadden, Mr. Benavidez worked for members of Congress in both the United States Senate and the United States House of Representatives.
Ross Fischer, J.D., Partner
Ross Fischer Law
Austin, Texas
Chairman. Commissioner. Prosecutor. Judge. Director. Professor.
Over 20 years of practicing law, Ross Fischer has earned a wide array of appellations. Along the way, he has developed an expertise in the area of professional ethics, public law, and campaign finance.
Ross's experience includes service in numerous capacities:
General Counsel to the State Bar of Texas, the nation's second largest bar association.

Chairman of the Texas Ethics Commission, which regulates the political process, including campaign finance, candidates, officeholders, and lobbyists.

Chairman of the Legislative and Campaign Section of the State Bar of Texas.

Clinical professor at the University of Texas School of Law.

Appointed by the Texas Speaker of the House to serve on the Select Interim Committee to Study Ethics laws.

Elected to the Board of Directors of the nation's largest electric distribution cooperative.

Assistant Chief Disciplinary Counsel for the State Bar of Texas.

The elected Kendall County Attorney, where he served as both the civil advisor and the misdemeanor prosecutor for one of the fastest growing counties in Texas.

A municipal judge.
Ross provides legal counsel to elected officials, candidates, trade associations, corporations, political committees, and public entities. Given his expertise in the area of professional ethics, he is often called upon to conduct investigations on behalf of organizational clients.
Ross works on specialized litigation, including the Public Information Act, mandamus actions involving public officials, and election-related matters. Ross has successfully represented clients before both the Texas Supreme Court and the Texas Court of Criminal Appeals.
Ross is a graduate of St. Edward's University and the University of Texas School of Law, both in Austin.
Evan E. Fitzmaurice, J.D., Assistant General Counsel - Legal Expert
The University of Texas System
Austin, Texas
Evan E. Fitzmaurice is an Assistant General Counsel – Legal Expert in the Office of General Counsel, where he focuses on special projects involving University of Texas System-wide initiatives, intellectual property commercialization, start-ups and licensing, all matters involving the Office of Innovation and The Horizon Fund, all matters involving UTIMCO, and business transactions of all types involving our campuses and institutions.
Specifically, Mr. Fitzmaurice negotiates angel and venture financings, mergers and acquisitions and public offerings involving U.T. System portfolio companies, assists campuses and institutions with complex sponsored research arrangements involving public pharmaceutical companies and unique patent licensing, equity participation and conflict of interest issues, and structures, designs, negotiates and drafts commercial and business documents relating to unique and innovative corporate arrangements involving U.T. intellectual property, digital media, private investors and corporate partners. These activities regularly involve handling employment matters, option plans, securities compliance, board governance matters, partnership and LLC agreements, commercial relationships and contracts, intellectual property counseling and licensing for U.T.-affiliated start-up companies. Mr. Fitzmaurice also handles all matters involving United States National Laboratories.
Mr. Fitzmaurice received a B.A., with honors, from The University of Texas at Austin in 1993 and a J.D. from The University of Texas School of Law in 1999.
Before joining the University of Texas System, Fitzmaurice practiced corporate and securities law in private practice in Austin, Texas. Prior to that time, Fitzmaurice served as the Director of the Texas Film Commission, an agency in the Office of the Governor. Prior to that appointment, Fitzmaurice practiced corporate and securities law in Los Angeles, California, with K&L Gates LLP and Jackoway Austen Tyerman Wertheimer Mandelbaum Morris Bernstein Trattner & Klein, P.C., and in Dallas, Texas, with K&L Gates LLP and Locke Lord LLP.
Mr. Fitzmaurice was admitted to the State Bar of Texas in 1999 and the State Bar of California in 2006.
Sean Flammer, J.D., Assistant General Counsel
The University of Texas System
Austin, Texas
Sean Flammer specializes in Title IX, student affairs disputes, employment issues, constitutional litigation, and general litigation.
Sean graduated with High Honors and with the Order of the Coif distinction from the University of Texas at Austin School of Law in 2007. After clerking for a federal appellate judge, Sean joined a large litigation firm in Austin. He practiced trial and appellate litigation for over 4 years before he joined the Office of Attorney General. At the Attorney General's office, Sean spent over 5 years representing universities and other state agencies in complex litigation. He had a heavy docket of litigating and advising clients on Title IX/due-process matters. He has tried cases in federal and state court and argued at courts of appeals in both state and federal court. He is a former adjunct professor at UT Law and has represented both plaintiffs and defendants in high-profile litigation.
Sean is active in the legal community. He is a member of the Lochridge Inns of Court and is the former Chair of the Austin Bar Association's Civil Litigation Section. Before law school, Sean was a Teach for America teacher in the Mississippi Delta and attended Grinnell College.
Darren Gibson, J.D., Shareholder; Co-Chair, Higher Education Industry Group
Littler Mendelson P.C.
Austin, Texas
Higher Education. Investigations. Litigation and Trials. Discrimination and Harassment. Corporate Compliance and Ethics. Whistleblowing and Retaliation.
Darren Gibson is a zealous advocate and trusted advisor to private businesses and public-sector employers, including colleges and universities, on a range of employment-related matters.
Darren vigorously defends his clients in a range of individual and class action cases, including discrimination and retaliation claims, wage and hour collective actions, and noncompete litigation, among others. Darren loves the courtroom, is not afraid to take cases to trial, and regularly handles appeals. He litigates cases in courts across Texas, and he has argued appeals before the Fifth and Ninth Circuits.
Darren has a particular focus representing higher education institutions. He serves as co-chair of Littler's Higher Education Industry Group and is an active member of the National Association of College and University Attorneys. Darren's higher education experience includes representing universities and related individuals in employment and Title IX litigation, and conducting investigations into sexual harassment and sexual misconduct under Title IX. In addition, Darren represents higher education clients in enforcement matters brought by the Department of Education Office of Civil Rights and other federal agencies.
Darren is board certified in labor and employment law by the Texas Board of Legal Specialization. Prior to his return to private practice, Darren served an assistant attorney general in the General Litigation Division of the Office of the Attorney General of Texas, where he defended state agencies and universities in employment litigation and class actions. Before coming to Texas, Darren was a senior associate in New York City, where his practice focused on securities litigation, internal investigations, and business disputes in the accounting and financial services industries.
Professional and Community Affiliations
Member,

CLE Committee

Volunteer,

National Association of College and University

Attorneys

Member,

Labor and Employment Section,

Texas

State Bar

Member,

Labor and Employment Law Section, Austin Bar Association

Board

Member,

Austin Symphony Orchestra

Member,

Leadership Austin, Essential Class of 2018
Education
J.D., Harvard Law School, 2000, cum laude
B.S., University of Kentucky, 1997, summa cum laude
Amos N. Guiora, Ph.D., Professor of Law
The University of Utah S. J. Quinney College of Law
Salt Lake City, Utah
Amos N. Guiora is Professor of Law at the S.J. Quinney College of Law, the University of Utah. He is a Distinguished Fellow at The Consortium for the Research and Study of Holocaust and the Law (CRSHL), Chicago-Kent College of Law; and a Distinguished Fellow and Counselor at the International Center for Conflict Resolution, Katz School of Business, University of Pittsburgh. He is also the Inaugural Chair of the University of Utah Independent Review Committee.
Professor Guiora has an A.B. in history from Kenyon College, a J.D. from Case Western Reserve University School of Law, and a PhD from Leiden University. He has published extensively both in the United States and Europe on issues related to national security, limits of interrogation, religion and terrorism, the limits of power, multiculturalism, and human rights.
His most recent book is Armies of Enablers: Survivor Stories of Complicity and Betrayal in Sexual Assaults (2020). His previous books include Populist and Islamist Challenges for International Law (2019); Earl Warren, Ernesto Miranda and Terrorism (2018); The Crime of Complicity: The Bystander in the Holocaust (2017); and Tolerating Intolerance: The Price of Protecting Extremism (2014).
Professor Guiora is actively involved in bystander legislation efforts in Utah and other states around the country.
Hailey Martin Mullican, J.D., Attorney
The University of Texas Health Science Center at San Antonio
San Antonio, Texas
For over a decade, Hailey has represented UT Health San Antonio, a top U.S. Academic Medical Center, advising its five schools in healthcare transactions and higher education law.
Raised by physicians, Hailey witnessed early the calling of healthcare from education and licensing to practice and pitfalls. That experience attracted her to health law and its complexity, variability, and potential for positive impact. An ideal client, UT Health's expansive clinical, educational, and research missions allow Hailey to maximize the value of her unique expertise and support an institution committed to caring for people and improving lives. Hailey has experience:
Advising on institutional strategy and assisting in negotiation of significant business affiliations, mergers and acquisitions;

Defending and responding to federal and state investigations regarding healthcare and higher education;

Negotiating and drafting healthcare transactions, including highly specialized contracts for reimbursement, medical affiliation, coverage agreements, managed care arrangements, data, and indigent care;

Establishing corporations or other legal entities to facilitate healthcare operations, overseeing board governance, and advising executive committees;

Managing complex litigation related to medical malpractice, employment, civil rights matters, and higher education while effectively managing outside counsel costs;

Providing advice on clinical practice, including medicine, nursing, dentistry, risk management, credentialing, and legal regulatory issues;

Providing advice to educational programs regarding creation, accreditation, and student academic and disciplinary matters, with expertise in graduate medical education;

Advising on clinical research matters, including Institutional Review Board and Institutional Animal Care and Use Committee guidance; and

Advising on The University of Texas System and Board of Regents regarding institutional regulations, policies, and procedures.
Hailey is a graduate of Abilene Christian University and St. Mary's School of Law. She lives in San Antonio with her husband and their three wild sons, with whom she enjoys cars, weapons, Minecraft, and mud.
Ashley Palermo, J.D., Senior Legal Officer
The University of Texas MD Anderson Cancer Center
Houston, Texas
Ashley A. Palermo attended Texas A&M University where she earned a Bachelor of Science degree in Genetics and then earned her Juris Doctorate from Vanderbilt University Law School.
Ashley began her career at Bryan Cave Leighton Paisner in Atlanta, Georgia, practicing employment law and general commercial litigation. She then served as the Administrative General Counsel for the Third Circuit Court of Appeal of Louisiana.
Ashley joined UT System's Office of General Counsel in 2014 specializing in employment law and higher education law. After 5 years with UT System, she joined MD Anderson Cancer Center in January 2019 as a Senior Legal Officer and assists the institution with all facets of employment matters for faculty, administrative, and classified staff.
Ashley is an expert in Title IX and has spoken nationally on Title IX matters and other aspects of employment law.
Daniel H. Sharphorn, J.D.
Vice Chancellor and General Counsel
The University of Texas System
Austin, Texas
Before joining UT System in 2007, Dan served in the Vice President and General Counsel's office of the University of Michigan for 25 years, most recently as Associate Vice President and Deputy General Counsel. In that capacity, Dan had primary responsibility for legal advice and litigation management at every level of the University in all matters related to faculty and student affairs, research, and governance. As Deputy General Counsel, he assisted in the management of an office with twenty attorneys, five paralegals, and related support staff that provided legal advice to the Board of Regents, the main University campus in Ann Arbor, two regional campuses, and the University of Michigan Medical Center. Dan directly supervised attorneys responsible for legal advice on intellectual property, technology transfer, export controls, purchasing, contracts, immigration, conflicts of interest and ethics, and student affairs. He also taught law, and social organization and law, in the University of Michigan Department of Sociology.
Dan began his career in higher education as an instructor and Judge Advocate General at the United States Military Academy at West Point. Dan earned a J.D., M.S.W., and M.A. (Sociology) from the University of Michigan and a B.S. from the U.S. Military Academy at West Point.


Major Stephen Snyder-Hill, USA, Retired
Columbus, Ohio
Stephen Snyder-Hill, Author & Registered Dietitian, joined the military in 1988 and served in 2 wars. He has received numerous awards, including the Meritorious Service Medal. He is currently a Major in the US Army Reserve and works at Columbus Public Health in Columbus, Ohio.
Having endured years of Don't Ask, Don't Tell, which passively encouraged a culture of fear and secrecy for gay soldiers, he submitted a video question to political candidates during a Republican Primary Debate asking them if they would re-instate the policy. He was booed, which led to a media frenzy.
He fought the DOD & DOMA in a lawsuit spearheaded by SLDN. He and his Husband took 25 couples to Washington DC to get married on the steps of the Supreme Court before the DOMA hearings. They fought Ohio's probate court which denied them a name change. They currently chair several efforts for Marriage Equality in Ohio.
They travel the country, giving news interviews, speaking at universities, community centers, and pride parades. His story was featured on HBO's The Newsroom, as well as news media worldwide. He wrote the Memoire: Soldier of Change: From the Closet to the Forefront of the Gay Rights Movement (www.soldierofchangebook.com).


Mayra C. Suárez, J.D., Associate, Litigation;
Government Enforcement and White Collar Crime
Skadden, Arps, Slate, Meagher & Flom LLP and Affiliates
Washington, D.C.
Mayra Suárez's litigation experience includes conducting internal investigations on behalf of U.S. and foreign corporations, audit committees and individuals in the U.S., Europe and Latin America. She also has defended clients in connection with allegations of unlawful anti- trust practices and in investigations by the Department of Justice (DOJ) and the Securities and Exchange Commission (SEC) related to the Foreign Corrupt Practice Act (FCPA). Ms. Suárez advises clients on improvements to their compliance policies and procedures.
Some of her representations have included:
conducting several internal investigations on behalf of the audit committee of a multinational company in the health care sector relating to improper business practices and accounting irregularities, including issues arising under the FCPA;

representing a public company in a criminal and civil investigation by the DOJ's Antitrust Division and state attorneys general;

advising companies in the health care and construction sectors regarding internal investiga- tions and developing and enhancing their compliance programs;

representing a company in an arbitration concerning a dispute relating to the termination of an agreement; and

representing a multinational media corporation in connection with investigations related to government contracts.