If you are thinking about retiring, there are several resources to assist you through this process:
Plan your Retirement
UT System Retirement Planning Guide
(9:27 min)
Guide for Retiring Employees
2021-2022 Enrollment Guide for Retiring Employees
Am I eligible to retire?
See TRS retirement eligibility requirements .
Am I eligible for Retired Employee Insurance Benefits?
View and download our Retirement Eligibility Flowchart .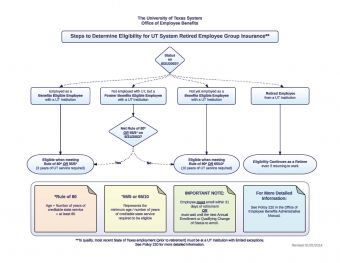 If you have questions about your eligibility for retirement under TRS or ORP, please contact your location institution Benefits Office.
Retirement Savings
If you have reached retirement age, you can start enjoying your retirement savings. Contact your local Benefits Office for more information.